Defiant Lance Armstrong Races Again: "Nobody Needs To Cry For Me"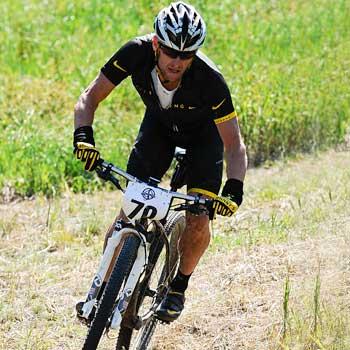 Lance Armstrong defiantly hopped on his wheels and completed a mountain bike race in Aspen, Colorado on Saturday, only a day after he was stripped of his seven Tour de France wins.
And the 40-year-old athlete who is at the center of a worldwide doping scandal urges fans not to feel sorry for him.
After crossing the finish-line at the Power of Four Mountain Bike Race in Aspen, Armstrong told waiting reporters: "Nobody needs to cry for me. I'm going to be great."
Article continues below advertisement
The testicular cancer survivor stunned the world on Thursday when he announced he will no longer fight allegations that he used performance-enhancing drugs when he racked up a record seven Tour de France wins.
In a statement released on August 23, the Texan said: "There comes a point in every man's life when he has to say: 'Enough is enough'.
"For me, that time is now."
As a result the U.S. Anti-Doping Agency – which has been investigating the drug allegations – banned the retired athlete from the sport he loved.
But, rather than hide away and keep a low profile, the father-of-five, boldly got on his bike to join other racers in Aspen.
According to reports, Armstrong was smiling at the beginning of the race and after coming in second, he said: "OK, I'm going to eat a cheeseburger."
The cancer research fundraiser later took to his Twitter page to joke about being beaten by a 16-year-old – Keegan Swirbul who won the race.