Lance Armstrong Had Blood Transfusions To Cover Up Steroid Use Says Former Teammate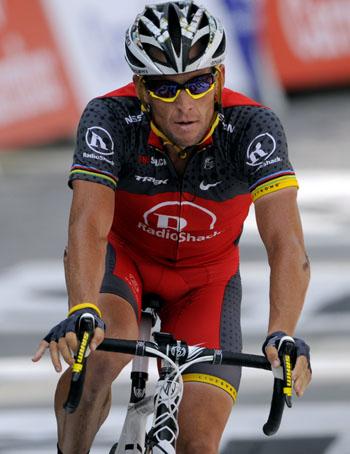 Lance Armstrong had blood transfusions while racing to help cover up his use of banned performance enhancing drugs. That's just one of the stunning accusations coming in The Secret Race, hitting bookstores Tuesday.
Written by Armstrong's former U.S. Postal Service cycling teammate, Tyler Hamilton, the book offers up a stunning litany of ways he says Lance fooled drug testers for years.
Article continues below advertisement
As RadarOnline.com has been reporting, last month Armstrong dropped his years-long challenges against the U.S. Anti-Doping Agency and was immediately stripped of his seven Tour de France titles.
The now disgraced Armstrong took advantage of a French law meant to protect Tour de France racers' sleep time by barring drug testing from 10 pm to 6 am, reveals Hamilton. His team "microdosed" immediately at 10 so the drugs would be out of their systems when testing would resume at 6 am.
Armstrong, writes Hamilton, had a motorcyclist they nicknamed Motoman following USPS racers along the Tour de France route. He carried banned erythropoietin and prepaid cellphones to discreetly set up juice drops.
Armstrong personally gave out white lunch bags with testosterone pills and drops and erythropoietin at the end of each stage in Tour de France races.
But it was the blood transfusions intended to cover up the drug use that Hamilton remembers most vividly.
Article continues below advertisement
"With the other stuff, you swallow a pill or put on a patch or get a tiny injection," he writes. "But here you're watching a big, clear plastic bag slowly fill up with your warm, dark red blood. You never forget it."
The book comes on the heels of a scathing tell-all about Armstrong written by his former assistant for Outdoors magazine.
Armstrong continues to insist he's done nothing wrong.
RELATED STORIES: