Lance Armstrong Apologizes To Livestrong Staffers For Doping Scandal Ahead Of Bombshell Interview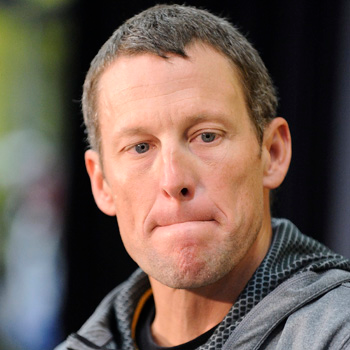 Article continues below advertisement
As RadarOnline.com previously reported, the former sporting legend, who was stripped of his seven Tour de France titles and banned from almost all sporting events in the future following a lengthy investigation by the U.S. Anti-Doping Agency, resigned from the board of directors for Livestrong on November 4, 2012.
Now seemingly seeking forgiveness for his unscrupulous actions, the disgraced cyclist choked up and several employees cried during the private meeting session, according to an Associated Press insider, who revealed that Armstrong apologized for letting the staff down and putting the future of Livestrong at risk but did not make a direct confession to the group about using banned drugs.
He also promised that he would try to restore the foundation's reputation, and urged the group to continue fighting for the charity's mission of helping cancer patients and their families. Afterwards, Armstrong, his legal team and close advisers gathered at a downtown Austin, Texas, hotel for the hotly anticipated interview.
It has been speculated that Lance will make a limited confession during the interview about his role as the head of a long-running scheme to dominate the Tour with the aid of performance-enhancing drugs. It was originally scheduled to be filmed at his house, but after news crews camped out at the Spanish-style villa the meeting moved locations.
Article continues below advertisement
"I'm calm, I'm at ease and ready to speak candidly," Armstrong told an AP reporter when asked how he was feeling during a Sunday morning jog near his home, adding: "But now I want to finish my run," before sprinting off in a red running jersey and black shorts, sunglasses and a white baseball cap pulled down to his eyes.
The interview will be Armstrong's first public response to the scathing USADA report , after which International Cycling Union President Pat McQuaid declared the athlete had "no place in cycling and he deserves to be forgotten."
As many speculate the interviewer will go easy on Armstrong during the on-camera confrontation, in a text to the AP on Saturday, Lance said: "I told her to go wherever she wants and I'll answer the questions directly, honestly and candidly. That's all I can say."
The interview will air at 9 p.m. ET on Thursday on the Oprah Winfrey Network.
RELATED STORIES: