Miniature Therapy Horses Sent To Comfort Sandy Hook Shooting Victims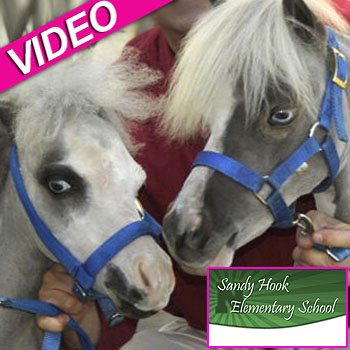 By Debbie Emery - RadarOnline.com Reporter
They say good things come in small packages and that couldn't be more true than of the miniature therapy horses who are heading to Newtown, Connecticut to comfort grieving families.
After making over 18, 000 people smile again at the Gentle Carousel in Alachua, Florida, the pint-sized horses will have their toughest task yet when they nuzzle children and parents who lost their loved ones at the hands of Adam Lanza in the December 14 shooting rampage at the Sandy Hook Elementary School.
Article continues below advertisement
"It's just one of those things. You can't say no," George Garcia-Bengochea, the founder of the nonprofit group, explained about how he was asked to take the group's 30 equines to hospitals, schools, nursing homes and even libraries, reported MyFoxOrlando.com.
"We hope we can bring some fond memories and happiness for that community in Newtown, and allow the children and families to dream of minis and not monsters," he added.
Just like with other therapy animals, the hoofed helpers let those in need get "your mind off of your worries, and it allows you to focus somewhere else," said volunteer Jennifer Anfinsen. "They can touch (the horses') hair. Touch her face. Little kids like to point out a body part and point out the ears or the nose of the hair."
The trip from Florida to Connecticut will be the longest journey the three mini horses - named Magic, Aladdin, and Wakanda - and six volunteers have made yet and the group are happy to ease the pain in the aftermath of the deaths of 26 victims.
MORE ON:
sandy Hook Elementary School
Article continues below advertisement
"I was very excited to be able to give back, and to be able, in the time of grief, to be able to bring them a little bit of happiness," said volunteer Chesleigh Slayton.
RELATED STORIES:
Hundreds Flock To Newtown To Mourn Sandy Hook Victims, Support Community
Ryan Lanza: 'My Brother Was Not A Monster'
Sandy Hook Massacre Demands We 'Wake Up & See How Inadequate Our Mental Heath System Is' Says Filmmaker
NRA Breaks Silence Post Sandy Hook: 'The Only Way To Stop A Bad Guy With A Gun Is With A Good Guy With A Gun'