Hundreds Flock To Newtown To Mourn Sandy Hook Victims, Support Community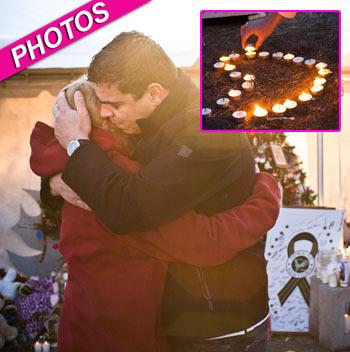 Hundreds of tourists visited Newtown, Connecticut over the weekend to mourn the victims of the December 14 massacre at Sandy Hook Elementary School, bringing seasonal items and leaving flowers and teddy bears at a nearby memorial.
Resident Anne Spillane said a Massachusetts family brought a life-sized Santa Claus holding a scroll engraved with the victims' names.
"People are just so good," she said. "We understand. They just want to do something."
Article continues below advertisement
Wingdale, New York resident Mark Burkhart said he and his family "felt we had to come here to grieve a little bit ... you find yourself not sure what to do or what to say, so this kind of helps."
Newtown local Connor Collier said Samaritans from far-stretching locales including Washington State and Florida have made their way to the small New England town to lend their support.
"Everybody wants to help," said Collier, who described the visitors as "just regular people."
MORE ON:
hollywood happenings
The state of Connecticut has dispatched dozens of mental health professionals to the town to assist with counseling those impacted by the killings.
As we previously reported, Adam Lanza, 20, shot his mother Nancy in her bed before taking an arsenal of her firearms to the school. His subsequent rampage left 26 other people dead, including 20 children, all 6 or 7 years old. As police drew in on him, he shot himself in the head.