Anonymous Vows To 'Destroy' Westboro Baptist Church Over Plan To Picket Sandy Hook Funerals, 'We Know Where You're Sleeping'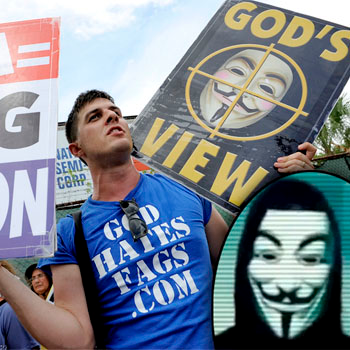 They have protested at military funerals and have spewed their hateful messages against homosexuals, Jewish people and other Christians all while claiming to be true believers in God.
But when the Westboro Baptist Church announced plans to protest at the funerals of those killed during the Sandy Hook shootings, one group decided they had gone a step too far.
Now, KY Anonymous is targeting the religious zealots the way they know best – by hacking the church's website and Twitter account and releasing the names, addresses and contact details of alleged members.
Article continues below advertisement
On Saturday, Westboro Baptist Church spokesperson Shirley Phelps-Roper caused outrage by tweeting: "Westboro will picket Sandy Hook Elementary School to sing praise to God for the glory of his work in executing his judgment."
In response KY Anonymous released a video announcing their own plans saying: "We will not allow you to corrupt the minds of America with your seeds of hatred…
"We will destroy you. We are coming."
The hacker group, which is shrouded in secrecy, then posted a list of data on the Pastebin website. CNET is reporting that the list includes the names, street addresses, email addresses and phone numbers of alleged Westboro parishioners.
On Monday Anonymous tweeted: "WBC we know where you're sleeping tonight…"
Others are vowing to stop Westboro devotees in their tracks. According to The Huffington Post, Reddit users have announced plans to travel to Newtown to create "a silent blockade during the funeral processions" to prevent disruption.
MORE ON:
sandy Hook Elementary School
Article continues below advertisement
Meanwhile an online petition has been posted on the White House website calling for the IRS tax-exempt status of the church to be revoked.
It says: "The Westboro Baptist Church is better-known for homophobic displays, suing people and picketing funerals than for providing Christian care to a community."
As RadarOnline.com previously reported, the church has previously targeted the funerals of Apple CEO Steve Jobs and screen icon Elizabeth Taylor.