Newtown's Only Undertaker Describes His 'Week From Hell' As First Shooting Victims Are Buried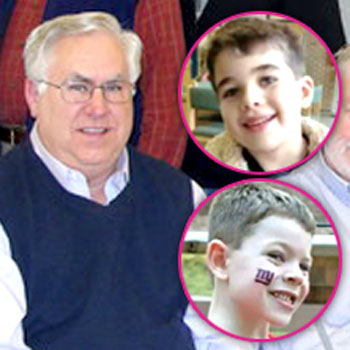 By Debbie Emery - RadarOnline.com Reporter
The one and only undertaker in the rural town of Newtown, Conn., had to endure the agonizing task of handling the multitude of little bodies and tiny caskets following the tragic shooting on Friday and he is now opening up about his "week from hell."
Daniel Honan, the director of Honan Funeral Home on Main Street, has never been so busy but he is far from happy about the extra business and the need to hire between 25 and 30 new staffers to handle the 11 grade-school victims that he must bury in the coming days, reported the New York Daily News.
Article continues below advertisement
"I've never seen anything like this, never," said the undertaker who normally only has two employees. "We added staff to meet the demand and do what we do."
Showing obvious signs of exhaustion and emotional stress from his grim task, Honan revealed how his phone has been ringing off the hook requesting funeral arrangements since lone gunman Adam Lanza, 20, opened fire inside Sandy Hook Elementary School.
As RadarOnline.com previously reported, Lanza shot his mother Nancy in her bed before taking an arsenal of her firearms to the school. As police drew in on him, he shot himself in the head.
Since the Honan Funeral Home opened in 1903, none of the previous generations of morticians has been tasked with providing services for so many grieving families at once, and the namesake owner said he had been given the horrifying task of trying to hide the bullet holes for a week's worth of wakes.
Article continues below advertisement
"We're trained to cover them up," he revealed. "We have people with special skills to do that. Some caskets will be open and some will be closed."
An open casket, he added, "brings the reality of the situation to light and helps bring closure" for the families. Honan said his clients are "handling it well overall . . . considering what is happening."
The first funerals for victims of the massacre are to be held on Monday, as the families and friends of 6-year-olds Noah Pozner and Jack Pinto say goodbye to their little angels.
Pinto is remembered as being a huge football fanatic who loved the New York Giants, and wide receiver Victor Cruz made a special dedication to his fallen fan by visiting his family and writing "Jack Pinto, My Hero," on the young boy's cleats.
Noah Pozner has been described as an avid reader and "smart as a whip," by his uncle, Alexis Haller, according to the Associated Press. He is survived by his twin sister, Arielle, who was his best friend.