President Obama Meets With Grieving Families; Reads Names Of 20 Children Killed In School Massacre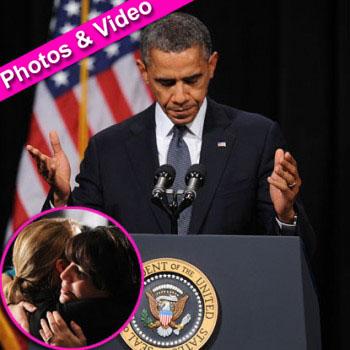 President Barack Obama is back in Washington, D.C. Monday after meeting privately with grieving families in Newtown, CT. and attending an emotional vigil Sunday night, during which he said he's prepared to use "whatever power this office holds" to ensure that a school massacre like Friday's is not repeated, hinting at more stringent gun control laws.
"What choice do we have?" the president asked just two days after gunman Adam Lanza's rampage at Sandy Hook Elementary School left 28 dead, including 20 children, all 6 or 7 years old.
Article continues below advertisement
"We can't accept events like this as routine," the president said. "Are we really prepared to say that we're powerless in the face of such carnage? That the politics are too hard?"
The president said he pondered whether the country was giving its' youth "the chance they deserve to live out their lives in happiness and with purpose.
"And if we're honest with ourselves, the answer is, 'No,'" he said. "We're not doing enough, and we will have to change.
"We will be told that the causes of such violence are complex, and it is true. No single law, no set of laws can eliminate evil from the world or prevent every senseless act of violence in our society. But that can't be an excuse for inaction. Surely we can do better than this."
He continued, "If there's even one step we can take to save one child, or one parent, or one town from the grief that has visited Tucson, and Aurora and Oak Creek and Newtown and communities from Columbine to Blacksburg before that, then surely we have an obligation to try."
Article continues below advertisement
Obama told the crowd full of mourning friends, neighbors and relatives, "I can only hope that it helps for you to know that you are not alone in your grief."
The president wrapped up his somber speech reading aloud the names of the children who were murdered in Friday's massacre.
"Let the little children come to me, Jesus said, and do not hinder them -- for to such belongs the kingdom of heaven."
"Charlotte. Daniel. Olivia. Josephine. Ana. Dylan. Madeleine. Catherine. Chase. Jesse. James. Grace. Emilie. Jack. Noah. Caroline. Jessica. Benjamin. Avielle. Allison.
"God has called them all home," he said. "For those of us who remain, let us find the strength to carry on and make our country worthy of their memory."
Sandy Hook Killer Adam Lanza: 'Deeply Disturbed Kid, Couldn't Feel Pain'
Watch the video on RadarOnline.com
The president, who called Friday his worst day in the oval office, said he'll meet with officials in the education, mental heath and law enforcement fields this week to discuss strategies moving forward.
Article continues below advertisement
As we previously reported, Adam Lanza, 20, shot his mother Nancy in her bed before taking an arsenal of her firearms to the school. As police drew in on him, he shot himself in the head.
youtube