Shocking Footage Of Cop Shooting Suspect Eleven Times Released, Day After Officer Was Cleared Of Wrongdoing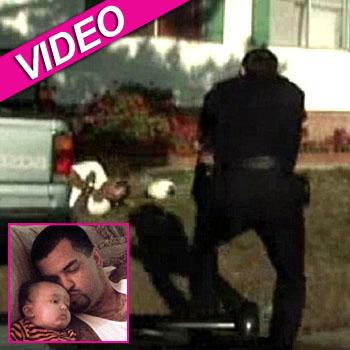 Graphic video footage of a police officer shooting an unarmed man 11 times has been released, just one day after the cop was cleared of any wrongdoing.
Officer James Moody gunned down Ernesto Duenez Jr., who was wanted in connection with a domestic violence incident, on June 8, 2011 as he was getting out of his car.
The footage, which was recorded by a camera in the patrol vehicle and shown at a press conference in Oakland, Calif. on Wednesday, shows Moody running toward the victim's pick up truck with his gun pointed.
Article continues below advertisement
Moody claims he saw Duenez holding a throwing knife so charged at him. However an attorney for the dead man insists he was unarmed.
The shocking video shows the police officer yelling "Drop the knife!" and "Hands up! Hands up, Ernie! Don't you move, Ernie, don't you move or I'll shoot you!"
He then fires 13 rounds in quick succession with 11 of the bullets making contact with Duenez. He was shot once in the head, eight times in the body and twice in the extremities.
Ernesto's wife, Whitney Duenez, is seen screaming and crying over her husband's body.
Moody has since returned to active duty after the San Joaquin County district attorney's office decided he was legally justified in shooting Duenez.
Video experts claimed it looked as though Duenez did have a knife in his hand, however police said they later found the blade in the bed of the truck.
John Burris, the attorney who filed the wrongful-death lawsuit against Manteca Police Officer Moody, insisted Duenez was not armed and was in fact trying to surrender when he was shot and killed.
Article continues below advertisement
He is asking the U.S Justice Department to open an investigation to pursue murder charges against Moody.
"We have communicated to the Department of Justice that this man should be prosecuted for murder," said Burris. "He should be held accountable just like anyone else would be held accountable when they engaged in this kind of barbaric conduct."
youtube