Kate Middleton's Baby Doctor's Heartbreaking Tragedy: Fiancee Gunned Down Outside Home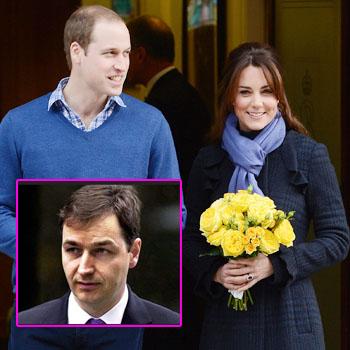 The respected doctor who will deliver Kate Middleton's royal baby was once at the center of one of the U.K.'s most notorious unsolved murders.
Dr. Alan Farthing, who is overseeing the health of the Duchess of Cambridge through her pregnancy, was engaged to popular TV host and news anchor Jill Dando -- who has been dubbed the "British Katie Couric" -- when she was shot dead in broad daylight on the doorstep of her London home 13 years ago, the National Enquirer is reporting.
Article continues below advertisement
On April 26, 1999 Dando, 37, left her fiance's house, went shopping, and returned to her own home where she was gunned down. The execution-like style of the shooting immediately prompted speculation that Dando might have been the victim of a professional hit man.
Farthing was questioned about the horrific crime and quickly cleared, but despite his iron-clad alibi, the physician couldn't shake the incredible rumors that he may have had a hand in the murder. A Royal source told the Enquirer that the murder mystery still haunts Farthing, 47, who became Queen Elizabeth's gynecologist in 2008.
MORE ON:
hollywood happenings
"Of course William and Kate know about the terrible tragedy, and they realize how tough it must have been for Alan," the insider told the Enquirer.
"Jill was killed just five months before they were due to marry, and the worst thing is that her murder remains unsolved. It's been impossible for him to truly find closure. He still has nightmares about what happened. It won't be lost on Kate that although she's hoping her doctor will bring her two bundles of joy into the world, he suffered a great private loss."
In 2001, loner Barry George was found guilty of Dando's murder and sentenced to life imprisonment, but his conviction was overturned on appeal. He was acquitted in 2008 after spending seven years behind bars.
Meanwhile, Farthing went on to marry fellow doctor Janet Stowell in a small civil ceremony in 2008, and the couple had a son in 2010.
To find out more about Dr. Farthing's tragic loss and how delivering Kate and William's royal baby is helping him move forward with his life, pick up the latest issue of the National Enquirer -- on newsstands Thursday.