Exclusive
Casey Anthony Out Of Hiding! Spotted In Florida Restaurant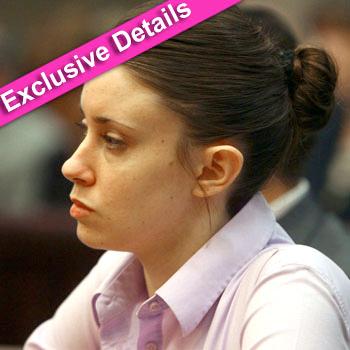 Article continues below advertisement
Casey had dinner at Flanigan's Seafood Bar and Grill in Lake Worth, Fl. in Palm Beach County, and RadarOnline.com has seen a photo snapped by an eyewitness snapped on their cell phone; it shows Anthony sitting in a booth with a white beanie pulled down low over her long dark brown hair.
Gossip Extra was first to report on Casey's dinner date and a well placed source, who did not wish to be identified, exclusively confirmed to RadarOnline.com that Casey was indeed in the restaurant on Friday, December 7 around 7 p.m.
"No one wants to be associated with Casey, it's just such bad publicity," the source said. "She was really quiet and not that many people were noticing it was her."
In the photo Casey is seen sitting with a bald man who has not yet been identified, but Gossip Extra reported that a second man, who was not pictured, was also dining with them and they identified him as Pat McKenna, a West Palm Beach private detective who worked with Casey's defense team.
Article continues below advertisement
McKenna reportedly paid the dinner tab with a credit card in his name. Gossip Extra reported that McKenna may have been helping Casey remain hidden out of the public eye for the last few months.
George and Cindy Anthony's daughter apparently had a plate of hot chicken wings for dinner, according to the source, who added: "Casey did not speak to the waiters, and talked to the men with her in a muted voice."