Exclusive
First Monica Lewinsky & John Edwards' Teams, Now Casey Anthony PI Getting Involved In David Petraeus Sex Scandal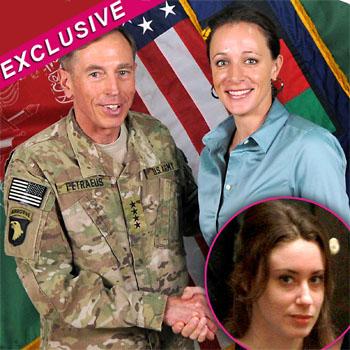 By Alexis Tereszcuk - Radar Entertainment Editor
As the David Petreaus sex scandal grows, RadarOnline.com has exclusively learned that, along with Monica Lewinsky's crisis management person and John Edwards' attorney taking part in the saga, the Casey Anthony private investigator has now become involved in the salacious situation.
Paula Broadwell, whose affair with Petraeus caused him to resign from his post as the CIA Director last week, was busted after she accused Tampa socialite Jill Kelley of having an illicit relationship with the former General, and Kelley went to the FBI who launched the probe and discovered Broadwell's own dalliances.
Article continues below advertisement
Kelley's 20,000 to 30,000 pages of emails to U.S. Army General John Allen and her relationship with him are now under investigation, as well as the two Generals writing letters on behalf of Kelley's twin sister Natalie Khawam to aid in her custody battle, and Kelley has hired the Lewinsky and Edwards' teams to represent her in her time of need.
Meanwhile, Dominic Casey, of D&A Investigations Inc. has been contacted by someone on Khawam's ex-husband's legal team to find out exactly what her relationship was with the Generals.
Dominic Casey confirmed exclusively to RadarOnline.com that he has been "contacted to investigate Natalie's relationship with General John Allen, General Petraeus and other high ranking military officials."
Casey was the investigator hired by Cindy and George Anthony to help find her missing granddaughter Caylee Anthony and he testified in the Casey Anthony trial.
Khawam and her ex-husband Grayson Wolfe have had a nasty divorce and custody battle over their four-year-old son. Both General Petraeus and General Allen wrote letters extolling her virtues to the judge, however she subsequently lost custody of her young son.
Article continues below advertisement