Who Is Paula Broadwell? What You Didn't Know About The Woman Who Brought Down CIA Chief David Petraeus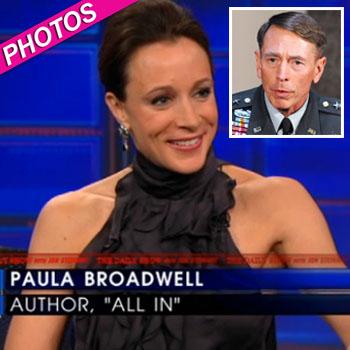 CIA Director David Petraeus' steamy extramarital affair led to his shocking resignation.
The four star general-turned spy chief, 60, had an illicit relationship with the married Paula Broadwell during which he sent her a barrage of explicit emails including explicit ones about having "sex under the desk."
Now RadarOnline.com is taking a look at Broadwell, the sexy mistress who has turned Washington on its head.
Article continues below advertisement
A self-procalaimed over-achiever, Broadwell was a valedictorian of her high school graduating class while also being the elected homecoming queen and being a member of North Dakota's all-star state basketball team.
She went on to West Point, where she received her degree in political geography and systems engineering while also finishing first in her class in fitness.
"I was driven when I was younger," said Broadwell.
"Driven at West Point where it was much more competitive in that women were competing with men on many levels, and I was driven in the military and at Harvard, both competitive environments."
Broadwell served for more than a decade in the U.S. Army, earning the rank of Major. Department of Defense and CIA jobs followed.
She then received her Masters degree at Harvard, and began competing in Ironman triathlons
Article continues below advertisement
She became a researcher at Harvard and first met Petraeus six years ago when she was a researcher at Harvard pursuing her PhD, and he came to speak at the university.
With her radiologist husband, Scott, she has two young sons, Lucien and Landon.
"As a working mother of two, I realize it is more difficult to compete in certain areas. I think it is important for working moms to recognize that family is the most important," she said earlier this year.
Broadwell become involved with Petraeus when she took on the project of researching him. When he went to Afghantistan as head of the coalition's efforts she was embedded with him for a year, between July 2010 and 2011.
She reportedly broke off the affair after he became CIA chief on September 5, 2011.
Her biography, All In: The Education of General David Petraeus, was published in February.
Their romance was uncovered by accident six months ago when the FBI began an investigation into whether a computer used by Petraeus had been compromised.
Article continues below advertisement
After stepping down from his post on Friday, Petraeus released a statement in which he apologized for his actions.
"After being married for over 37 years, I showed extremely poor judgment by engaging in an extramarital affair," he said. "Such behavior is unacceptable, both as a husband and as the leader of an organization such as ours. This afternoon, the president graciously accepted my resignation."
Broadwell has so far not commented.
RELATED STORIES:
Trouble In Paradise For Miley & Liam? Hemsworth Spotted Getting 'Very Cozy' With Mystery Blonde
Jessica Simpson Falls Off Diet Wagon Over Stress Of Dad's Gay Scandal
Robert Pattinson & Kristen Stewart Laughing & Joking In First Joint Interview Since Cheating Scandal
Lane Garrison Defends Joe Simpson, Says He Doesn't Believe Gay Allegations