Revealed! Woman CIA Director Had Affair With Is Paula Broadwell, His Biographer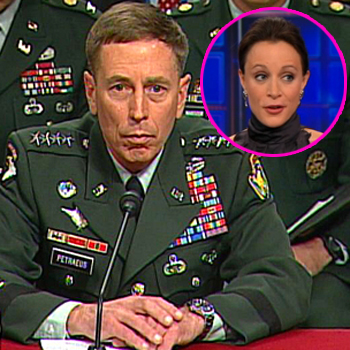 By Alexis Tereszcuk - RadarOnline.com Entertainment Editor
The identity of the woman with whom General David Petraeus cheated on his wife with and resigned his position as Director of the CIA over has been revealed and she is Paula Broadwell, the author of a very flattering book about him.
Paula spent three years writing the book titled All In that has been called a "valentine" to him.
There were rumors that Paula and David were having an affair, but Slate.com confirmed the news that she is indeed the woman behind his resignation.
Article continues below advertisement
According to the website, she was embedded with him in Afghanistan and "they went on frequent 5-mile runs together." Since he apparently did that with many reporters, the rumors about his affair were dismissed.
"In his personal life, he's always been seen as a straight shooter, a square. Few could have imagined that his end would come as the result of a morals scandal," the website reported.
David released a statement about his decision, saying: "After being married for over 37 years, I showed extremely poor judgment by engaging in an extramarital affair. Such behavior is unacceptable, both as a husband and as the leader of an organization such as ours. This afternoon, the President graciously accepted my resignation."
President Barack Obama reportedly "agonized for 24 hours over the letter of resignation before accepting it."
Paula Broadwell did not respond to RadarOnline.com's request for comment.
RELATED STORIES:
Trouble In Paradise For Miley & Liam? Hemsworth Spotted Getting 'Very Cozy' With Mystery Blonde
Jessica Simpson Falls Off Diet Wagon Over Stress Of Dad's Gay Scandal
Robert Pattinson & Kristen Stewart Laughing & Joking In First Joint Interview Since Cheating Scandal