Exclusive
Lane Garrison Defends Joe Simpson, Says He Doesn't Believe Gay Allegations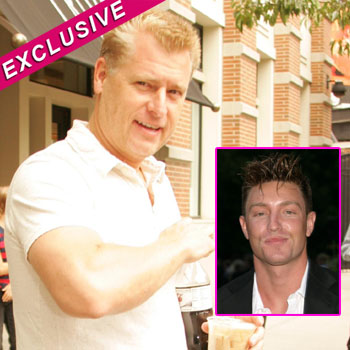 Article continues below advertisement
Lane credits Joe for his success and hopes all the allegations will blow over.
"I don't believe any of the stories that suggest Joe had relationships with other men while he was married to Tina," Lane said in an exclusive interview.
"They are the perfect family, and I got a chance to see that when I lived with them first hand. I grew up with Jessica and Ashlee, and Joe and Tina were incredibly nice to me and treated me like their own son.
"Joe was especially important in my life because he helped me get to where I am today. Our families know each other well, even my sister works as one of his assistants.
"I don't know what is going on out there in L.A., I'm shooting a movie out of town, but I don't believe Joe is gay.
"He was always very loving towards Tina and the family are super close," Lane revealed.
As RadarOnline.com previously reported, Tina dashed to New York to confront Joe about his alleged tryst with aspiring model Bryce Chandler Hill after seeing personal pictures of them together.
Article continues below advertisement
That culminated in the pair thrashing out their differences in a hotel lobby.
Before that, Bryce was bragging to friends about having a gay relationship with Joe and they said he used him for fame and would laugh behind his back.
"Bryce is desperate to become famous, he's done lots of modeling shoots and wants to become an actor," a source close to the Simpson family said.
"When he met Joe, he knew what a good job he had done in managing Jessica and Ashlee's careers and wanted a piece of the pie himself.
"But the sad thing is, he mocks and laughs at Joe behind his back. He doesn't care for him in the same way Joe does for Bryce.
"Bryce has been boasting about this for months, but no one believed him at the time," the source divulged.
The National Enquirer also reported that Joe hired gay male escort Joey Anderson while in New York City and they had a steamy 3-hour romp at the Mandarin Oriental hotel back in May.
Article continues below advertisement