David Petraeus 'Second Woman' Jill Kelley Hires Monica Lewinsky's Crisis Manager & John Edwards' Attorney!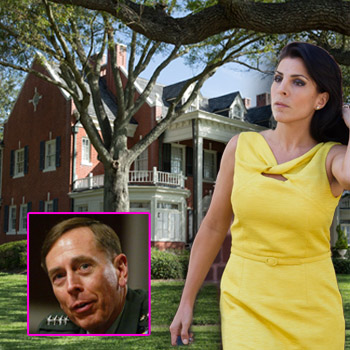 Article continues below advertisement
The investigation into the emails, which Broadwell sent to Kelley threatening "I know what you did," "back off," and "stay away from my guy," was launched after she contacted the FBI.
However, Jill and her doctor husband Scott Kelley have their own legal problems – they have at least four lawsuits filed against them and two foreclosures in Hillsborough County, totalling millions that they owe, according to court records first reported by Gossip Extra.
Jill was photographed outside her $1.3 million Tampa home on Monday looking like a Real Housewife dressed to the nines in a yellow sleeveless dress, nude pumps with her long dark hair around her shoulders and sporting a huge ring on her left hand.
She drove away in her silver Mercedes, which has an 'Honorary Consul' license plate, which she has since she was named an honorary consulate general to South Korea, and she worked as an unpaid, unofficial social liaison for U.S. Central Command, which Petraeus led, and where she planned special events.
Article continues below advertisement
Jill has hired Monica Lewinsky's crisis manager Judy Smith and disgraced former Senator John Edwards' attorney Abbe Lowell to represent her.
"We and our family have been friends with General Petraeus and his family for over five years. We respect his and his family's privacy and want the same for us and our three children," Jill and her family said in statement.
RELATED STORIES: