Details Of Justin Bieber Grisly Murder Plot Revealed, Involved 'Strangulation, Torture, Castration'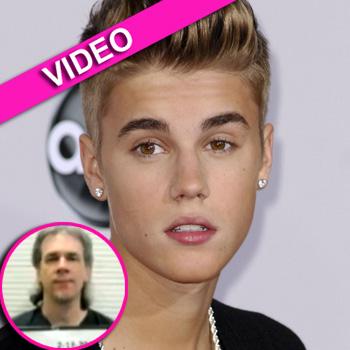 By Debbie Emery - RadarOnline.com Reporter
New information has been released Thursday about a cold-blooded -- and bizarre -- murder plot targeting Justin Bieber, and RadarOnline.com has the chilling details.
The Baby, Baby singer was the target of evil intentions from Dana Martin, a 45-year-old inmate in the Southern New Mexico Corrections Facility, who masterminded a plan to castrate the 18-year-old and his bodyguard and then strangle them, along with two other anonymous victims in Vermont, according to a New Mexico State Police affidavit.
Article continues below advertisement
The obsessed killer, who is serving a 978-year sentence for the 2000 rape and murder of a 15-year-old girl, has an image of Bieber tattooed on his leg and decided to target him after repeated attempts to contact the pop star were ignored.
There is no shortage of grisly details in the plan drawn up by recently-released former inmate Mark Aaron Staake, 41, and his nephew, Tanner Ruane, 23, who were recruited by Martin to carry out the plot.
Martin, "a very good manipulator" according to the affidavit, lured Staake and Ruane to be his hit men with lucrative monetary rewards and a multi-million dollar hideout, reported the Toronto Star, and they planned to carry out the killing when Biebs was in New York City playing two sold-out concerts at Madison Square Garden on November 28 and 29.
On November 19, Staake was driving a 1983 BMW with Ruane through Vermont to carry out the first two crimes, before they intended to kill Bieber. But the two would-be assassins missed their exit and were headed across the Canadian border.
Article continues below advertisement
After reportedly getting lost, they were stopped by a U.S. border agent at the Highgate Springs border crossing, where Staake was arrested on the spot due to his outstanding warrants in New Mexico, revealed Time.com.
Without his accomplice, Ruane called Martin at the New Mexico prison to explain he would not want to commit the crime alone. Ruane spoke with Martin again while driving south to Rotterdam, N.Y. and discussed some of the horrifying details of the plot. Both calls were recorded by the prison.
Bizarrely, it was then Martin who spilled the beans on his mastermind plan when he asked to speak to police on November 20 and told them how the first two killings were to be carried out: strangulation with a paisley neck tie, followed by castration with Fiskars "Durasharp" brand garden clippers. The affidavit said there was a bounty of $2,500 on each testicle.
"Martin stated that a paisley tie needed to be used because that was what he (Mr. Martin) had used previously," the affidavit reads.