2013 Grammy Awards: Men Rule With Most Nominations - Although Justin Bieber Is Shut Out!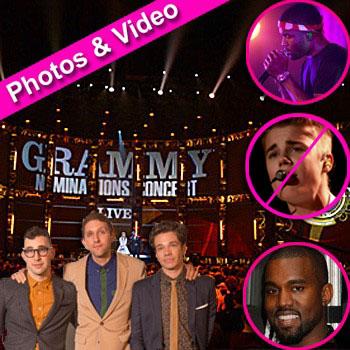 Men ruled as the 2013 Grammy nominations were announced Wednesday night, although Justin Bieber, one of the most successful singers in the world today, was shut out.
Six male artists or groups tied for a leading six nominations each -- perhaps most notably rising R&B singer Frank Ocean, who sent ripples through the music industry in 2012 with his announcement of his sexuality and with his critically-acclaimed multi-genre album channel ORANGE. In addition, Kanye West, Jay-Z, fun., Mumford & Sons and The Black Keys' drummer, Dan Auerbach also scored six nods.
Article continues below advertisement
Of course, several female artists also enjoyed a stellar year, and there was plenty of love for several of music's favorite leading ladies, including Kelly Clarkson, who scored four nominations; country superstar -- and serial dater -- Taylor Swift who received three nominations; and newcomer Carly Rae Jepsen, who earned two nods, including for Song of the Year for her catchy Call Me Maybe. Surprisingly though, neither Jepsen, nor One Direction received a nod as Best New Artist.
There are 81 categories in all. Below find the nominees in the major categories:
Album of the Year: The Black Keys, "El Camino": fun., "Some Nights"; Mumford & Sons, "Babel"; Frank Ocean, " Channel Orange"; Jack White, "Blunderbuss."
Best New Artist: Alabama Shakes, fun., Hunter Hayes, The Lumineers, Frank Ocean.
Record of the Year: The Black Keys, "Lonely Boy"; Kelly Clarkson, "Stronger"; fun., "We Are Young" (featuring Janelle Monae); Gotye, "Somebody That I Used To Know"; Frank Ocean, "Thinkin Bout You"; Taylor Swift, "We Are Never Ever Getting Back Together."
Song of the Year: Ed Sheeran, "The A Team"; Miguel, "Adorn"; Carly Rae Jepson, "Call Me Maybe"; Kelly Clarkson, "Stronger (What Doesn't Kill Y ou)"; fun., "We Are Young. "
The full list is at www.Grammy.com.
The Recording Academy announced the nominees for the 2013 Grammy Awards Wednesday night during a televised special and concert on CBS hosted by LL Cool J and Taylor Swift. She and the rapper/actor opened the show by putting together a beat-box version of her hit song Mean. Maroon 5 played headliner, singing three songs mid-show before finishing off the live broadcast. The group stuck around for an hour-long performance afterward for the crowd in attendance at the Bridgestone Arena in Nashville, Tenn. In the 5 years the special has aired on CBS, this marked the largest venue the show has been held in and the first time it was broadcast outside of Los Angeles.
Watch the video on RadarOnline.com
The 55th annual Grammy Awards will take place February 10 at the Staples Center in L.A. and will be broadcast by CBS.
youtube