Newtown Massacre: 27 Dead, Including 20 Children, Following Worst School Shooting In U.S. History — Watch Breaking News Coverage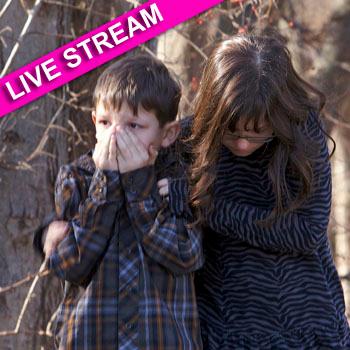 By Debbie Emery - RadarOnline.com Reporter
A crazed gunman went on a horrific shooting rampage Friday at Sandy Hook Elementary School in Newtown, Connecticut, killing 26 people, including 20 children - and RadarOnline.com is providing live stream coverage of this tragic breaking story.
The body of the gunman, who has been identified as Adam Lanza, 20, was found inside a classroom along with his firearms, it is not known at this point if he took his own life or if he was killed.
Article continues below advertisement
Lanza, a former student at the school, shot dead his own mother, who was a teacher, before targeting her students. According to the New York Post Lanza had "had a dispute with her" prior to his killing spree.
Lanza allegedly fired more than 100 rounds from a total of four weapons including a semi-automatic gun, a 223-caliber assault rifle and two 9mm handguns, beginning the wave of bullets in the kindergarten classroom.
The gunman was initially wrongly named as Ryan Lanza, Adam's brother, as the shooter was carrying his brother's ID.
Hoboken police are questioning Ryan, 24, over the massacre, but it is said he is not a suspect.
Meanwhile, officials announced that the state police are currently searching an unnamed location in connection with the shootings.
The tragic rampage occurred at around 9:40 a.m. ET on Friday at the school, which is situated in a small rural town where, ironically, many parents moved to as they thought it was a safe place to raise children.
Article continues below advertisement
One mother told CBS 2 that it's like a "war zone" in Newtown. Her child told Young he had bullets "whizzing by" him in the hallway and that a teacher pulled him into a classroom.
Stephen Delgiadice said his 8-year-old daughter heard two big bangs and teachers told her to get in a corner — thankfully the little girl was uninjured. "It's alarming, especially in Newtown, Connecticut, which we always thought was the safest place in America," he said.
Crying children poured into the school parking lot as terrified parents searched desperately for their little ones among the mayhem.
"I was in the gym and I heard a loud, like seven loud booms, and the gym teachers told us to go in the corner, so we all huddled," one student at the school told NBC Connecticut during its live broadcast. "And I kept hearing these booming noises. And we all … started crying."
Article continues below advertisement
"We were in my art teacher's room. We heard some gunshots – like 20. Then the police came with guns and told us to close our eyes," fourth-grader Venesa Bajraliu, 9, told the New York Post.
"I heard gunshots and I saw policemen. My teacher was scared and a little shaky. We went into the office and police came and took us into the firehouse."
She heard screams and gunshots over the intercom of the school, said her brother, Nergim, 17.
He and his mother were the first to arrive at the school. He saw three young victims, who appeared wounded.
"When I saw the girl come out with police, the girl was splattered with blood," he said.
Police, ATF and FBI agents have been going room to room searching Sandy Hook, which is a K-4 school with about 600 students. Newtown is about 45 miles southwest of Hartford and 60 miles northeast of New York City.
Article continues below advertisement
According to a witness report, the school's principal and another staffer were among the six adult victims and the school's vice principal was shot in the leg. The three were hit after they ran into the school's hallway following the sound of gunfire, and only the vice principal managed to crawl back to safety.
The tragedy is being described as the worst school shooting in America. During the Columbine High School massacre in 1999, students Eric Harris and Dylan Klebold killed 12 people and wounded 21 others before committing suicide.