Anti-Virus Software Pioneer John McAfee Arrested In Guatemala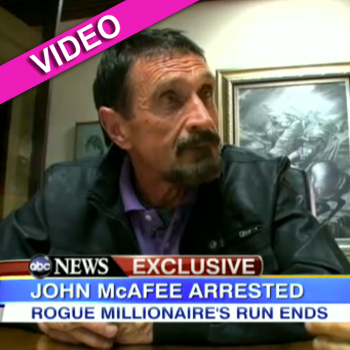 Billionaire anti-virus software pioneer John McAfee was arrested overnight in Guatemala after entering that country illegally, RadarOnline.com is reporting.
McAfee -- who had been on the run from police since the November 10th murder of his neighbor, fellow American ex-patriot Greg Faull -- is expected to be deported back to Belize Thursday morning, ABC News reports.
However, if a judge finds that McAffe's life could be in danger in Belizean custody -- as he claims -- he may not be sent back.
Article continues below advertisement
Just hours before his arrest by immigration police, he told ABC News he would be seeking asylum in Guatemala.
"Thank God I am in a place where there is some sanity," said McAfee, 67, before his arrest. "I chose Guatemala carefully."
McAfee said that in Guatemala, the locals aren't surprised when he says the Belizean government is out to kill him. "Instead of going, 'You're crazy,' they go, 'Yeah, of course they are,'" he said. "It's like, finally, I understand people who understand the system here."
But McAfee added he has not ruled out moving back to the United States, where he made his fortune as the inventor of anti-virus software.
In his interview with ABC News, a jittery McAfee called the media's representation of him a "nightmare that is about to explode," and said he's prepared to prove his sanity.
During his three-week journey, McAfee said he disguised himself as handicapped, dyed his hair seven times and hid in many different places during his time on the run.
Article continues below advertisement
He dismissed accounts of erratic and strange behavior and reports that he had been using the synthetic drug bath salts. He said he had never used the drug, and said statements that he had were part of an elaborate prank.
Investigators said that McAfee was not a suspect in the death of the former developer, who was found shot in the head in his house on the resort island of San Pedro, but that they wanted to question him anyway.