Catch Me If You Can! Billionaire Murder Suspect John McAfee Taunts Cops And Reporters!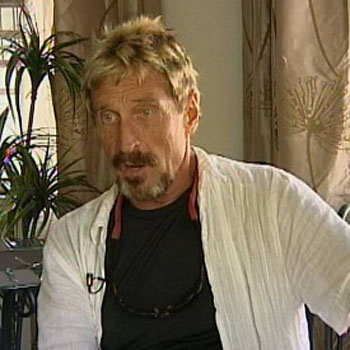 By Jon Boon - Radar Reporter
Software company founder John McAfee has been playing a game of cat and mouse with cops and reporters, claiming that he has watched them stake out his home, RadarOnline.com is reporting.
The eccentric billionaire took to his blog saying he even spoke with one hapless reporter and tried to sell him a souvenir close to the scene of the crime.
McAfee, 67, has been wanted for questioning since November 11 after his neighbor Gregory Faull was found shot dead in Belize.
Article continues below advertisement
"I needed to be close to the area where the events occurred and needed to watch, and hear, the actions of the authorities," he wrote.
"I also needed to do my own investigation, since the police only seemed to be investigating my whereabouts. My safety is contingent on the truth being discovered."
McAfee fears that if he gets caught by Belize authorities, he will be tortured and possibly killed. So, he's taken to wearing disguises. He said on his blog that he darkened his skin, colored his hair and stuffed his cheeks with chewed bubble gum to make his face appear fatter.
And, it seems the disguise worked - McAfee claims he nearly sold an Associated Press reporter a small souvenir.
Last week, Belize Prime Minister Dean Barrow said he thought McAfee was "bonkers" and "extremely paranoid."
But that doesn't perturb the software pioneer. He told ABC News Monday: "They may call me as they wish. I do not intend to turn myself in, no matter what they call me."
And does he plan on running further than Belize?
Article continues below advertisement