Murder Suspect John McAfee On Bath Salts: 'The Finest Drug Ever Conceived!'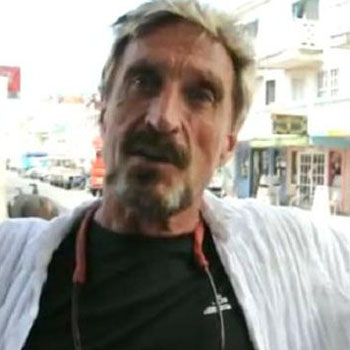 By Jon Boon - RadarOnline.com Reporter
Belize-based murder suspect John McAfee confessed to being a "huge fan" of MDPV — better known as bath salts — and worked for a year trying to purify psychoactive drugs from compounds commercially available over the Internet.
The millionaire co-founder of McAfee virus software posted several messages under the moniker "stuffmonger" on a drug-focused Russian-hosted message board called Bluelight chronicling his attempts to create a "super perv powder" strain of the banned substance.
Article continues below advertisement
McAfee, 67, even admitted testing the mind-altering substance after creating the drug in a makeshift lab – a small thatched-roof hut!
In one post, McAfee wrote: "I'm a huge fan of MDPV. I think it's the finest drug ever conceived, not just for the indescribable hypersexuality, but also for the smooth euphoria and mild comedown," New York magazine reports.
He also warned about the dangers of taking the drug: "I had visual and auditory hallucinations and the worst paranoia of my life."
McAfee claimed the best way to take MDPV is by rectal insertion. He wrote: "Measure your dose, apply a small amount of saliva to just the tip of your middle finger, press it against the dose, insert. Doesn't really hurt as much as it sounds. We're in an arena (drugs/libido) that I navigate as well as anyone on the planet here. If you take my advice about this (may sound gross to some of you perhaps), you will be well rewarded."
Article continues below advertisement
McAfee began posting his studies in July of 2010, with his final post coming on April 1, 2011.
In his last post, he explained that "the on-line world is more of a distraction than the self induced effects of the many experiments I've done using my own body over the past year or so, and I have work to do."
MDPV was recently banned in the U.S. but remains legal in Belize.
As RadarOnline.com previously reported, McAfee is the prime suspect in the murder of American builder Gregory Faull, who was shot at his home on Saturday.
Marco Vidal, head of Belize police force's Gang Suppression Unit, confirmed that the 67-year-old was the prime suspect.
According to Gizmodo, the popular gadgets website, the two men had been at odds for some time and Faull filed a complaint against McAfee claiming he fired guns and exhibited "roguish behavior."
RELATED STORIES:
Notorious Gangster Whitey Bulger's Victims Want A Share Of His Cash