Software Giant John McAfee, Prime Suspect In Murder Case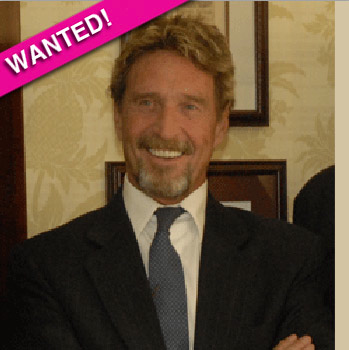 By Jon Boon - RadarOnline.com Reporter
A millionaire software giant is on the run after gunning down an American builder in Belize, according to police.
John McAfee, co-founder of McAfee virus software, is the prime suspect in the murder of Gregory Faull, who was shot at his home on Saturday, Gizmodo is reporting.
Marco Vidal, head of Belize police force's Gang Suppression Unit, confirmed that the 67-year-old was the prime suspect.
Article continues below advertisement
The official police statement read: "On Sunday the 11th November, 2012 at 8:00 a.m. acting upon information received, San Pedro Police visited 5 3/4 miles North of San Pedro Town where they saw 52 year old U.S National Mr. Gregory Viant Faull, of the said address, lying face up in a pool of blood with an apparent gunshot wound on the upper rear part of his head apparently dead. Initial investigation revealed that on the said date at 7:20 a.m. Laura Tun, 39 years, Belizean Housekeeper of Boca Del Rio Area, San Pedro Town went to the house of Mr. Faull to do her daily chores when she saw him laying inside of the hall motionless, Faull was last seen alive around 10:00 p.m. on 10.11.12 and he lived alone. No signs of forced entry was seen, A (1) laptop computer brand and serial number unknown and (1) iPhone was discovered missing. The body was found in the hall of the upper flat of the house. A single luger brand 9 mm expended shells was found at the first stairs leading up to the upper flat of the building. The body of Faull was taken to KHMH Morgue where it awaits a Post Mortem Examination. Police have not established a motive so far but are following several leads."
According to Gizmodo, the popular gadgets website, the two men had been at odds for some time and Faull filed a complaint against McAfee claiming he fired guns and exhibited "roguish behavior."
McAfee moved to Belize in 2008 after his computer software company suffered setbacks – as of 2009 its worth had plummeted from $100 million to $4 million, the MailOnline reported.
He later started an antibiotics company in the Central American county, but that venture fell apart when he was arrested for allegedly harboring illegal drugs and weapons and running a crystal meth lab. McAfee claimed he was arrested for refusing to donate money to a local politician.