Billionaire Murder Suspect On The Run, John McAfee Called 'Bonkers' By Belize Prime Minister!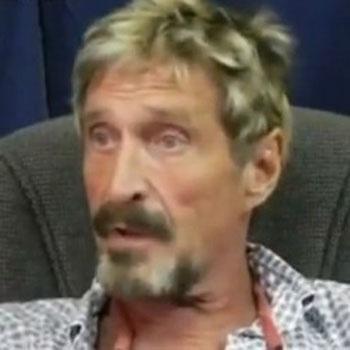 By Jon Boon - RadarOnline.com Reporter
Belize's Prime Minister has urged eccentric software pioneer John McAfee to come out of hiding calling him "bonkers," RadarOnline.com is reporting.
Since becoming the prime suspect in the murder of American expatriate Gregory Faull, McAfee, 67, has been on the run from local authorities, pausing to give Wired magazine bizarre interviews along the way.
But Prime Minister Dean Barrow thinks it's time for McAfee to give himself up, say Reuters.
Article continues below advertisement
"I don't want to be unkind, but he seems to be extremely paranoid - I would go so far as to say bonkers," Barrow said.
"He ought to man up and respect our laws and go in and talk to the police."
As RadarOnline.com previously reported, McAfee has said he's disguised himself as he continues to evade Belize police officials.
The billionaire co-founder of McAfee anti-virus software called up a reporter at Wired magazine (once again) claiming he has dyed his hair, eyebrows, beard and mustache jet black.
"I've modified my appearance in a radical fashion," McAfee told Wired.
"I'll probably look like a murderer, unfortunately."
McAfee, 67, is the prime suspect in the murder of Faull – McAfee's next-door neighbor on Ambergis Caye, an island off the coast of Belize.
According to a police report, Faull, 52, was found dead in a pool of blood early Sunday by a housekeeper. His laptop and iPhone were both stolen.
MORE ON:
Celebrity Justice
Article continues below advertisement
Before that, Faull had complained about the barking of McAfee's dogs – he kept 11 at his beachside compound – and four of those dogs were poisoned last Friday.
When police officers arrived at McAfee's property to question him and search the home on Sunday afternoon, he buried himself in the sand and covered his head with a cardboard box! He told Wired he spent 18 hours hiding in his home before slipping away.