John McAfee Believes He Will Be Tracked Down And Killed By Cops!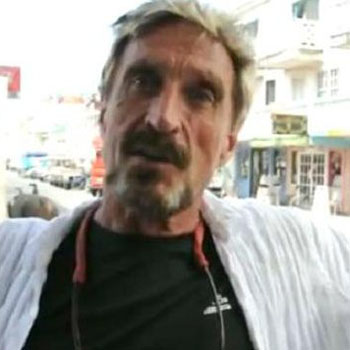 On-the-run murder suspect John McAfee is still in hiding, but believes he will soon be tracked down and tortured or killed by Belizean authorities.
The billionaire co-founder of McAfee anti-virus software phoned Wired magazine for the second time in 48 hours revealing he has hidden in the bottoms of boats and cars, slept on a mattress infested with lice, before finally taking refuge in the home of friends in Belize.
Article continues below advertisement
"Obviously, given enough time, they will track me down," he told Wired reporter Joshua Davis.
"It's just a matter of time," he added.
McAfee, 67, is the "person of interest" in the murder of American expatriate Gregory Faull – McAfee's next-door neighbor on Ambergis Caye, an island off the coast of Belize.
According to a police report, Faull, 52, was found dead in a pool of blood early Sunday by a housekeeper. His laptop and iPhone were both stolen.
Before that, Faull had complained about the barking of McAfee's dogs – he kept 11 at his beachside compound – and four of those dogs were poisoned Friday night.
McAfee says he's innocent and believes he was the target of gunmen who went to the wrong house.
When police officials arrived at McAfee's property to question him and search the home on Sunday afternoon, he buried himself in the sand and covered his head with a cardboard box! He told Wired he spent 18 hours hiding in his home before slipping away.
Article continues below advertisement
McAfee is adamant that if he gives himself up, he'll be either tortured or killed by local authorities.
"You know what happens in Central American jails in order to get information. I fully expect to have signed statements saying God knows what," he said.
"If you put enough pain on someone, they will say or sign anything."
Instead, McAfee plans to hide out as long as he can. "I'm unable to move. All the police, all the media have my photo. It's a small country," he said.