John McAfee Claims He Was The Target, Not The Murderer In Belize Homicide!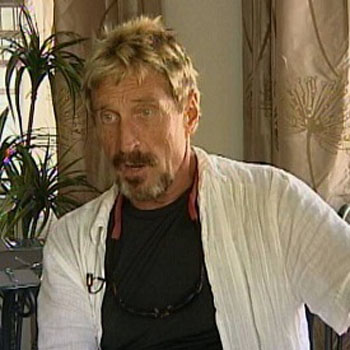 By Jon Boon - RadarOnline.com Reporter
Eccentric millionaire software pioneer John McAfee is claiming innocence in the shooting of a man in Belize.
The 67-year-old co-founder of McAfee virus software told science magazine Wired by phone that he didn't murder neighbor Gregory Faull and believes he was the target of gunmen who went to the wrong house!
McAfee told Wired's Joshua Davis that he was at his home next door to the shootings when police came to investigate the case. But, instead of making himself available to answer questions, McAfee chose to hide in the sand with a cardboard box over his head!
Article continues below advertisement
Asked what he knew of the shooting of Faull, a retired builder, McAfee said: "Nothing – other than I heard he had been shot.
"I thought maybe they were coming for me. They mistook him for me. They got the wrong house.
"They killed him. It spooked me out," McAfee claimed.
As RadarOnline.com previously reported, McAfee is the prime suspect in the murder of American expatriate Faull, 52, who lived next door to McAfee on Ambergis Caye, an island off the coast of Belize.
According to a police report, Faull was found dead in a pool of blood early Sunday by a housekeeper. His laptop and iPhone were said to me missing.
Raphael Martinez, a spokesman for Belize's Ministry of National Security told Associated Press that McAfee was a "person of interest" in the case.
RadarOnline.com also reported that McAfee confessed to being a "huge fan" of MDPV -- better known as Bath Salts -- and worked for a year trying to purify psychoactive drugs from compounds commercially available over the internet.
Article continues below advertisement
He posted several messages under the moniker "stuffmonger" on a drug-focused Russian-hosted message board called Bluelight chronicling his attempts to create a "super perv powder" strain of the banned substance.
McAfee, 67, even admitted testing the mind-altering substance after creating the drug in a makeshift lab.
RELATED STORIES:
Murder Suspect John McAfee On Bath Salts: 'The Finest Drug Ever Conceived!'