'Life On The Run Isn't Fun,' Says Murder Suspect John McAfee In First TV Interview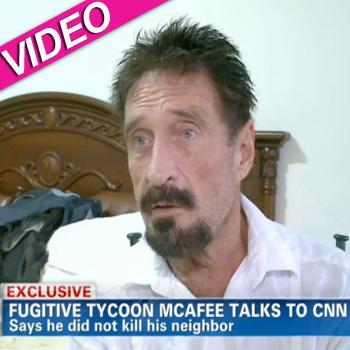 Billionaire software guru and Belize murder suspect John McAfee has come out of hiding to discuss his life on the lam.
"I will certainly not turn myself in, and I will certainly not quit fighting," the eccentric founder of McAfee anti-virus software told CNN about being sought by Belize authorities who want to question him about the killing of his neighbor.
McAfee said running from the law "hasn't been a lot of fun. I miss my prior life. Much of it has been deprivation. No baths, poor food."
Article continues below advertisement
Police consider McAfee, 67, the prime suspect in the murder of his next-door neighbor, retired American contractor Gregory Faull, 52, who was found dead in a pool of blood on November 11 on Ambergis Caye, an island off the coast of Belize. Faull had complained about the barking of McAfee's dogs.
After police sought to question him, McAfee ran away, and as RadarOnline.com previously reported, his life has since been like a Hollywood movie with the billionaire riding in boats, huddling on floorboards in taxis, and sleeping in a bed that he said was infested with lice.
In his first on-camera interview since going on the run, McAfee said he is afraid for his life and carries up to a dozen cell phones at one time to stay ahead of the law. He also maintained his innocence to CNN, saying he did not murder Faull or pay anyone to kill him. The software pioneer claimed his conflict with Belize authorities stemmed from his refusal to pay a bribe to a politician.
But Belize's Prime Minister, Dean Barrow, has called McAfee "bonkers."