Curiouser & Curiouser! Billionaire Murder Suspect John McAfee's Bizarre Life On The Run Gets Even Crazier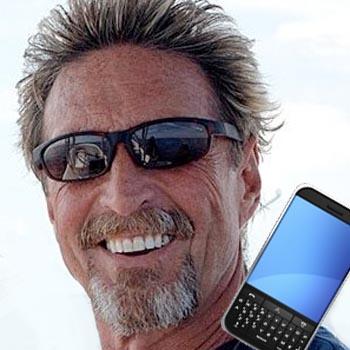 By Jon Boon - RadarOnline.com Reporter
Belize murder suspect John McAfee may be on the run, but he still had time to stop and ask for tech support, RadarOnline.com is reporting.
The eccentric billionaire software pioneer took time out from hiding from the authorities to post on a private message board asking for information about how phone tracking works.
At 9:48 p.m. on Wednesday, McAfee posted this message using his "stuffmonger" alias: "How long does it take for a phone company to triangulate a cell phone signal? With what accuracy? Is there any way to confuse/delay the system? If a cell phone is turned off, but the battery is installed, is there any way to locate the phone? Are there any brands of phones are more/less difficult to triangulate?"
Article continues below advertisement
Responses verged from helpful to speculative, but one poster summed it up best: "Well this is awkward…"
The 67-year-old co-founder of McAfee anti-virus software, whose life seems more akin to a crazy Hollywood movie at the moment, told the Associated Press he has been changing locations and telephones frequently to stay one step ahead of a Belize police unit he believes wants to kill him.
McAfee is the prime suspect in the murder of retired builder Gregory Faull – McAfee's next-door neighbor on Ambergis Caye, an island off the coast of Belize.
According to a police report, Faull, 52, was found dead in a pool of blood early Sunday by a housekeeper. His laptop and iPhone were both stolen.
As RadarOnline.com previously reported, Belize's Prime Minister Dean Barrow urged the eccentric McAfee to come out of hiding.
"I don't want to be unkind, but he seems to be extremely paranoid - I would go so far as to say bonkers," Barrow told Reuters.
"He ought to man up and respect our laws and go in and talk to the police."