Exclusive
Remembering Josh Powell's Horrific Murder-Suicide At Christmas Is Like 'Picking At A Scab' Says Brother-In-Law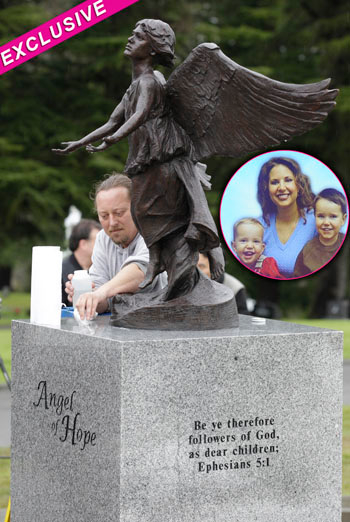 By Debbie Emery - Radar Reporter
With the holidays rapidly approaching, the family of Josh and Susan Powell are facing their first Christmas without Charlie and Braden, but they are determined to enjoy the festivities without wallowing in the tragedy, RadarOnline.com can exclusively reveal.
"We'll do some little things for Christmas for them but at the same time it has reached the point that if you do keep going at it it's like picking at a scab," Kirk Graves, who is married to Steven Powell's daughter, Jennifer Powell Graves, told RadarOnline.com in an exclusive interview. "We'll remember them but we want it to be a happy time too."
Article continues below advertisement
As RadarOnline.com previously reported, Josh Powell heartlessly attacked his two sons, 5-year-old Braden and 7-year-old Charlie, with a hatchet before torching his home in Washington state on February 5. All three died of smoke inhalation.
Josh was the prime suspect in the disappearance of his wife Susan, who vanished in December 2009 when he claims he went on a last minute camping trip with their young sons, in the middle of freezing cold winter in West Valley City, Utah.
On Monday, Susan's parents, Chuck and Judy Cox, finally had something to smile about when they visited the newly installed memorial that has been erected in the Puyallup, Washington, cemetery where Charlie and Braden are buried. The boys will now forever be watched over by the beautiful stone angel on top of the hillside that has been dedicated to children.
"I spoke to Chuck and Judy an hour ago. They are ecstatic about it, it is beautiful and they love it, it is everything that they wanted and may be even more so they are very happy," Kirk told Radar.
Article continues below advertisement
"It is only a 15 minute drive from their home and right up on the hill above Charlie and Braden's plot and the plot where Susan will be buried when we find her."
The dedication was put together by a group in Washington state called Crimestoppers, explained Graves: "They were able to get a bunch of donations early on and the plan was to do smaller projects from it but when so much money came in they decided to put that up."
When asked what prompted people to dig so deep into their pockets, Kirk replied: "Charlie and Braden certainly drew a lot of people's attention and that tends to help out when it comes to collecting funds for something like that."
As for the mystery of what happened to their mother, Thursday will mark the third anniversary of the day that Susan vanished but despite the intense national attention there have been no fresh leads in the cold case since Josh's death.
Article continues below advertisement
"There are no new developments, that is one of those things that has just settled into a very longterm ''ets wait and see if anyone will ever say something' kind of thing," said Kirk sadly. "I have to hope that Josh told somebody something before he killed himself. It is hard to get really hopeful but at the same time there is a possibility that he spoke to his dad."
Meanwhile, Steven Powell is currently serving a 2 1/2 year sentence for 14 counts of voyeurism relating to two young girls, age 9 and 8, who lived next door to him in 2006, and his recently released diaries have revealed that he had a disturbing fascination with his daughter-in-law before her disappearance.
Many suspect that the 62-year-old may know secrets of what happened to her, but "he won't talk to anyone right now, he won't respond to people who have put in an effort. I have a very low opinion of him and have for 16 years. I feel that if it serves his purpose he will talk but unless he gets something out if it then he has no reason to say anything," Graves told Radar.
RELATED STORIES: