Exclusive
Susan Powell's 'Heartbreaking' E-mails Show Her Desperation To Save Marriage, Says Family Attorney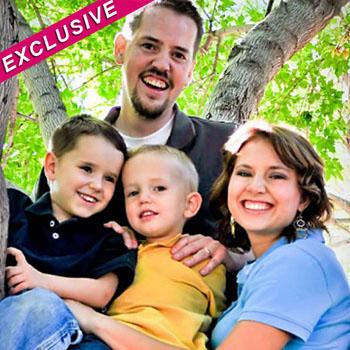 Article continues below advertisement
"I want him in counseling, on meds, I want my husband, friend, lover BACK no more crazy, outrageous, outlandish beliefs/opinions," she wrote to friends on July 11, 2008.
Anne Bremner, attorney for Susan's parents, Chuck and Judy Cox, told RadarOnline.com in an exclusive interview that, "The family was certainly aware that the marriage was deteriorating, she had thought about leaving him but only stayed for the sake of the kids.
"We all have a natural inclination to save our parents from pain. She was trying to be a good mom, a good daughter, and a good wife and was trying to reconcile and do everything she could to save the marriage," she explained.
As RadarOnline.com previously reported, Josh remained the prime suspect in his wife's disappearance when he brutally attacked his two sons, 5-year-old Braden and 7-year-old Charles, with a hatchet before torching his home in Washington state on February 5. All three of them died in the blaze, and the mystery surrounding Susan has yet to be solved.
Article continues below advertisement
In her personal correspondence, Susan wrote about Josh shouting "rude, yelling and barking commands at me," and her fears of what else he would do.
"Every moment I step back and take stock of what I'm dealing with, it feels like a never ending cycle but I'm too afraid of the consequences (sic) losing my kids, him kidnapping, divorce or actions worse on his part, if I take a stand on one of his ultimatums like spending $20 on the counseling co-pay or cutting off access to my pay check," she wrote.
Bremner told RadarOnline.com that even though Josh controlled the money, it was Susan who was the breadwinner. "The part is saddest when she says she wanted any compliment and all he could say was she did a good job of cleaning," said the family lawyer.
"He wouldn't hold her hand, he would never say he loved her. It is just heartbreaking – she tried so hard to make it work, in spite of that he didn't treat her well and was mean to her. She just wanted to try and keep the family together.
Article continues below advertisement
"Susan was a woman of faith, and Josh was clearly not involved in the church like she was," said Bremner. "He had turned completely against it."
Since the deaths of Josh and the boys, his father, Steven Powell has become a person of interest in Susan's disappearance, and he is currently in police custody on child porn-related charges.
"Every time you think it couldn't get any worse, it does," explained Bremner. "Chuck and Judy are good people and are so resilient in their determination to find Susan.
"I think they held out hope for a while that she was still alive and being held somewhere, based on statements Steve Powell had made. Now they are resigned to the fact that she is no longer with us. I think there is a little bit of hope until the body is found but all the evidence points to a homicide."
There has been mounting speculation that the Coxes will take legal action against Washington state authorities over the child custody case, and Bremner exclusively revealed to RadarOnline.com that "a request was made on Friday for the records of the police investigation relating to Susan, along with all the records from the Department of Children and Family Services to review everything filed.
Article continues below advertisement
"It's premature to say if they are taking legal action. Once they get the records they will decide if they will act," she explained, adding that there is a statute that allows victims more access than the media to getting police records.
In the meantime, "They are concentrating on putting one foot in front of the other," said Bremner. "They are lovingly, resilient people and people of faith. I have never represented anyone who is this committed to finding out the truth about their daughter and what led to the death of their grandsons," she revealed.