Exclusive
Susan Powell's Parents Contemplate Lawsuit, But 'There Is No One At Fault But Josh,' Says Family Member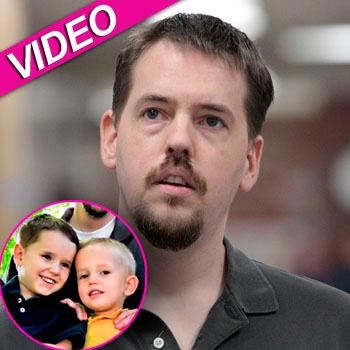 By Debbie Emery - Radar Reporter
Susan Powell's grieving parents are considering taken legal action against Washington state authorities over the child custody case that led to the death of their grandsons at the hands of their father, but RadarOnline.com can exclusively reveal that other family members believe that the only person to blame for the tragedy is Josh Powell himself.
"I haven't heard anything about a lawsuit yet and they (Chuck and Judy Cox) haven't said anything to me about it," Powell's brother-in-law Kirk Graves told RadarOnline.com in an exclusive interview.
Article continues below advertisement
"I can say that based on the information I have, if I was in their situation then I wouldn't file a lawsuit.
"If there was someone at fault it was Josh, and there was no one else at fault in my mind," revealed Graves, who is married to Jennifer Powell, Josh's sister, but the couple remain incredibly close to Susan's family and are their strong and loyal supporters in light of both tragedies.
On Monday, Chuck Cox, Susan's father, told FOX 13 that there were no immediate plans for a lawsuit and it was too premature to talk about legal action. "Right now, we need to figure out exactly where the blame lays," he said.
"There's a lot of questions about how the authorities could have allowed visitation, knowing what they knew about Josh," he added.
As RadarOnline.com previously reported, Powell was the prime suspect in the 2009 disappearance of his wife, Susan, when he attacked his two sons, Charlie, 7, and Braden, 5, with a hatchet on February 5 and then blew up the house, killing all three of them in the explosion.
Article continues below advertisement
The boys had been placed in the custody of Susan's parents last September,  and just days before the tragedy a family court judge told Powell that he was not likely to regain custody anytime soon, and that he needed to undergo a psychological review.
Heartbroken grandfather Chuck said on Monday that he believed Washington state child welfare workers pushed reunification between Josh and the children, despite red flags revealed in documents made public last week by Washington's Department of Social and Health Services.
While the boys were living with the Coxes at the time of their death during a weekly supervised visit, Graves told RadarOnline.com that their long-term future may have been in his and Jennifer's Utah home.
"We hoped that we would have gotten custody of the children and adopted them if Josh ended up in prison permanently," their loving uncle revealed.
Graves said that time is helping to heal the open wounds that the entire family suffered after the horrific murder-suicide, and admitted that suffering the emotional trauma surrounding Susan's disappearance over the past two years had taught them essential coping skills.
Article continues below advertisement
"It is one of those things you have to put into the back of your mind and you go on with your life, then after a while you don't have to put in the back of your mind anymore," he told RadarOnline.com.
"This is worse than when Susan disappeared, but once you have been through it before, you are more ready," Kirk explained.
"The boys' deaths hit really hard, really fast and there weren't a lot of questions afterwards so it was a matter of dealing with it and grieving. At least we know what has happened and where they are, the process is a little cleaner.
"Whereas with Susan, we are still asking questions and we don't know what happened to her and there is no closure. It has been two years, we can make assumptions but have no answers."
Charlie and Braden were buried at the Life Center Church on February 11 in Tacoma, Washington, and Kirk and Jennifer made the long drive from Utah to say goodbye.
"The funeral helped with the closure and let us say goodbye. I came away not great but feeling a little more human and alive again," explained Graves.