Josh Powell Killed His Sons In A 'Sham House' Set Up For Social Workers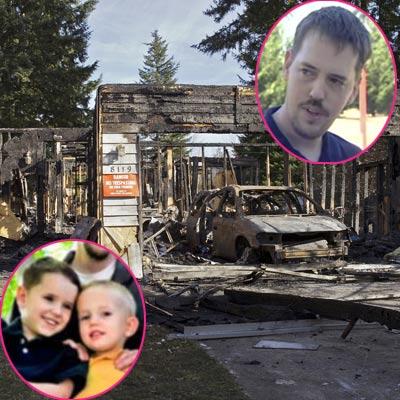 Article continues below advertisement
As RadarOnline.com previously reported, the father of two from Puyallup, Washington, had been law enforcement's only "person of interest" in the December 2009 disappearance of his wife Susan. He claimed she'd gone missing from their home in Utah while he was off on a middle-of-the night camping trip with their sons, Charlie 7, and Braden, 5.
At a public meeting for local residents on Monday to help them cope with the disaster in their backyard, Pierce County sheriff's detectives Gary Sanders and Sgt. Denny Wood told the 50 residents that they could ask anything they wanted.
The question and answer session resulted in it being revealed that Powell had rented the house on a cul-de-sac in Graham after police found child pornography in his father, Steven Powell's house last September, and he was told he would have to move out if he wanted the children in his home.
Neighbors who lived in the same secluded circular road said they didn't know anyone even lived in the house and thought it was abandoned, and revealed they had never seen Powell, who was a familiar face from the news coverage of his wife's disappearance, or the boys there.
Article continues below advertisement
Detectives believe Powell created a fake home to use for supervised visits with the boys. "He set it up like a rental place, with pictures of the family," Wood said. "I think it was staged so when CPS (Child Protective Services) came, it would look like a loving family," but would really be a four-walled bomb.
Investigators believe that Powell started meticulously putting the pieces into place for his grisly act after he did not regain custody of Charlie and Braden on February 1. He left $6,500 along with instructions with his sister and lawyer to pay outstanding bills, along with how to how to turn off the utilities.
When they searched the fake house, police found water, dried food, and potentially-deadly gas cans, explained Wood. "One gallon of gas vaporized is the equivalent of three sticks of dynamite."
The detective went on to explain how Powell set off the homemade bomb.
"The little boys come in. He takes them to the back and hits them with the hatchet. Josh Powell scatters gas. He walks around the house, tossing it on the walls and floor. He puts the five-gallon gas can by the front door. He sits with the other can between his knees," then lit a flame.
Article continues below advertisement
"It was an explosion, not a fire," Wood said.
Many have speculated that if emergency services had reacted faster when the social worker called 911 then the disaster could have been averted, but police argued that it would have just led to more deaths.
"If we had gotten someone there, firefighters or police officers, we'd have dead firefighters or police officers," Wood said. "If the court had done something different and awarded custody to the grandparents, we'd have dead kids and dead grandparents."