Josh Powell's Computer Had 'Incestuous' Images On It, Say Police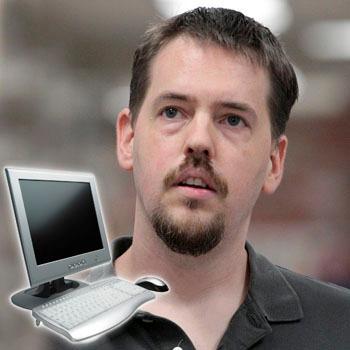 By Debbie Emery - RadarOnline.com Reporter
Even in death, Josh Powell is causing more outrage and disgust after police searching his home computer found computer-animated images that depicted "incestuous sex."
The images showing obscene parent-child relations were so disturbing that their discovery prompted a psychologist to recommend last week that Powell undergo an intensive psychosexual evaluation, reported CBSNews.com.
Article continues below advertisement
Unfortunately, as RadarOnline.com previously reported, Powell took both his life and those of his sons, Charles, 7, and Braden, 5, before that could happen.
On Sunday, the man who was the prime suspect in their mother's December 2009 disappearance snatched the boys as a social worker arrived with them for a supervised visit, after locking them in the house and attacking them with a hatchet, he sparked a deadly explosion that killed them all.
Sadly had lawyers for last week's custody hearing been alerted of the incestuous images before it took place, the tragedy could have been averted.
Attorney Steve Downing said that if he had seen them he might have asked the court to change the terms of Powell's supervised visitation with the boys.
According to ABCNews.com, the computer was taken by police following the disappearance of Powell's wife, Susan Cox, but the images were brought up for the first time publicly last week.
Article continues below advertisement
Following the custody hearing, Powell claimed he had no idea what kind of images the West Valley City, Utah, police had found on his computer that would factor into a custody hearing. He said he could not remember having any inappropriate images on his computer, and said it was possible someone had emailed the images to him.
The social worker who was the last to see Charles, Braden and even Josh alive, has broken her silence in an interview with ABC News, where she gave horrific details of the moments before the deadly explosion that destroyed his Puyallup, Washington home.
Elizabeth Griffin Hall said after pulling the children inside the house, Powell "caught my eye, his shoulders were slumped. He had a sheepish look. He just shrugged his shoulders and slammed the door.
"I heard him say, 'Charlie, I've got a big surprise for you'... and then I heard Braden cry out." Griffin-Hall said. "I'm saying, 'Let me in, Josh, let me in' -- I realized I didn't have my phone in my hand and I could smell gas. Too much time had passed and I could smell gas.
Article continues below advertisement
"They are not going to grow up," Griffin-Hall said, sobbing. "The world lost two beautiful boys to a monster."
"God called me to do this," she said. "I am not going to be Powell's victim. He's not going to destroy my passion for children. He's not going to stop me from working with children."
ABC's 20/20 special on Powell, Sins of the Father, airs Friday at 9/8c.
RELATED STORIES:
Social Worker Breaks Silence On Josh Powell Tragedy: 'He Was Really, Really Evil'