Social Worker Breaks Silence On Josh Powell Tragedy: 'He Was Really, Really Evil'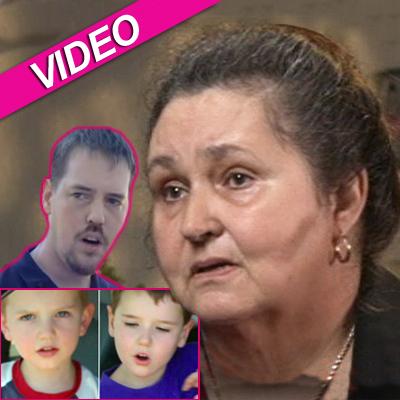 Child services worker Elizabeth Griffin-Hall, who witnessed the tragedy in Washington Sunday when Josh Powell torched his home with he and his two sons inside, has finally broken her silence, telling ABC News she feels the killings occurred because "Josh Powell was really, really evil."
Griffin-Hall had brought Powell's sons, 7-year-old Charles and 5-year-old Braden, to his home during what was to be a supervised visit. She described the chain of events that led to the awful ending.
Article continues below advertisement
She said of Josh Powell: "He caught my eye, his shoulders were slumped. He had a sheepish look. He just shrugged his shoulders and slammed the door.
"I heard him say, 'Charlie, I've got a big surprise for you'... and then I heard Braden cry out." Griffin-Hall said. "I'm saying, 'Let me in, Josh, let me in' -- I realized I didn't have my phone in my hand and I could smell gas. Too much time had passed and I could smell gas."
Griffin-Hall said in those tense moments, she "wanted to get to the kids and would have broken in if she could.
"I couldn't have stopped him," said Griffin-Hall. "I did everything I was supposed to do. I did everything right and the boys are still dead. It took just a second. When I close my eyes I see him and he was so normal. He did not look like a monster."
An autopsy later revealed Powell had attacked his sons with a hatchet before lighting the house on fire.
Article continues below advertisement
In her 911 call, Griffin-Hall told the operator she wanted to move her car away from the home, as she could smell the gas in the air; the operator rebuffed her initial attempts to get the police sent because, quoting protocol, he didn't consider the situation to be life-threatening. During a second call, she was speaking to a 911 supervisor when the deadly blast occurred.
Josh Powell's Father Steven Named 'Person Of Interest' In Disappearance Of Susan Powell
Article continues below advertisement
As RadarOnline.com previously reported, Powell had been law enforcement's main "person of interest" in the December 2009 disappearance of his wife Susan. He claimed she'd gone missing from their home in Utah while he was off on a middle-of-the night camping trip with their sons.
Despite the horrific memories, Griffin-Hall said she will continue to ply her craft as a child services worker.
"God called me to do this," she said. "I am not going to be Powell's victim. He's not going to destroy my passion for children. He's not going to stop me from working with children."
ABC's 20/20 special on Powell, Sins of the Father, airs Friday at 9/8c.