Josh Powell's Final Words: 'I'm Sorry To Everyone I've Hurt. Goodbye'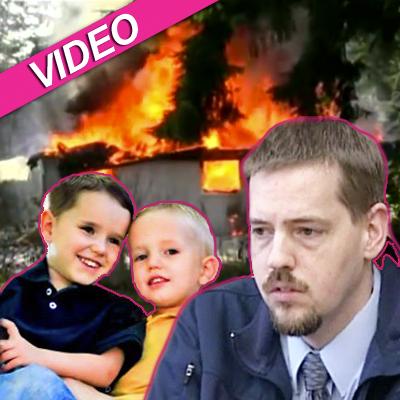 By Neil Woulfe - Radar Senior News Director
Josh Powell left behind a haunting voicemail for his family just 20 minutes before attacking his two young sons with a hatchet and torching his home in Graham, Washington on Sunday afternoon.
In the short voicemail -- exclusively obtained overnight by ABC News -- Powell pointed to his boys, Braden 5, and Charles,7, for the reason behind his heartbreaking act that left all three dead.
Article continues below advertisement
"Hello this is Josh. I'm calling to say goodbye. I am not able to live without my sons, and I'm not able to go on anymore. I'm sorry to everyone I've hurt. Goodbye," Powell said in the voicemail.
As RadarOnline.com has previously reported, Powell had long been considered a "person of interest" in the disappearance of his wife Susan, who vanished in December, 2009 while Powell claimed he was away on a spur-of-the-moment overnight camping trip with his sons.
As a caseworker pounded on Powell's front door Sunday, authorities say he rounded up the boys in a room behind the family's garage, where he ignited two 5-lb cans of gasoline and then attacked the boys with a hatchet in an apparent attempt to kill them.
In the end, Powell and both boys died of smoke inhalation, Pierce County Medical Examiner's Office investigator Melissa Baker said Monday night. However, Baker added that the boys suffered "chop injuries" that contributed to their deaths -- Charles was struck on his neck and Braden had injuries to both his head and neck.
Article continues below advertisement
Authorities say they believe Powell felt threatened by the boys starting to remember details of their mother's disappearance, including a drawing made by one of the boys showing his mother in the trunk of the family's car.
On Good Morning America Tuesday, Susan Powell's parents remembered their two young grandsons, who stayed with them.
"They were very happy…kept safe.,,and they were enjoying their time with us and were becoming more and more loving," Chuck Cox said.
Susan's parents also said the boys once told them that the last time they saw Susan "mommy was on a camping trip."
Susan's parents said when they would question the boys about it, they would go into a "rehearsed" response that they didn't remember.
Detectives have said the tragedy was a planned attack and that in the days before the tragedy, Powell donated his son's books and clothes to charity.
He also transferred the money from his bank account to someone else's account, according to ABC News.