Heartbreaking 911 Tapes Released In Josh Powell Murders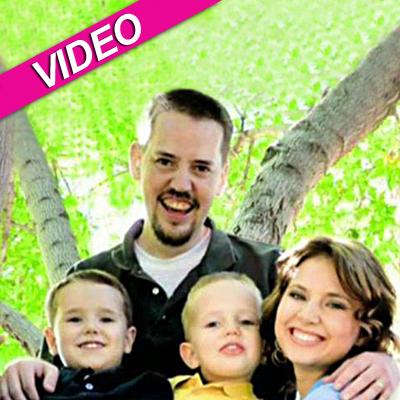 Only days after Josh Powell heartlessly attacked his two sons, 5-year-old Braden and 7-year-old Charles, with a hatchet before torching his home in Washington state, we've got the disturbing 911 call made by child services worker Elizabeth Griffin-Hall during what was to be a supervised visit.
"Nothing like this has ever happened before -- one of these supervised visits. I'm really shocked," Griffin-Hall said in the 911 calls of Powell slamming the door in her face after she arrived with the boys on Sunday. "I can hear the kids crying, but he still wouldn't let me in."
Article continues below advertisement
In the call, Griffin-Hall tells the 911 operator she wanted to move her car away from the home, as she could smell the gas in the air; the operator rebuffed her initial attempts to get the police sent because, following protocol, he didn't consider the situation to be life-threatening.
Griffin-Hall said in response, "This could be life-threatening -- He went to court on Wednesday and he didn't get his kids back -- I'm afraid for their lives," before calling back to report that the house had blown up.
"People are saying there's not somebody here," Griffin-Hall said, "but I was just there, and there is somebody here. There's two little boys in the house and they're 5 and 7, and there's an adult man, and he has supervised visits, and he blew up the house and the kids."
Watch the video on RadarOnline.com
In a separate call, Josh's sister Alina reported to 911 that her brother "left me a voicemail," saying "something about how he can't live without his sons and goodbye."
Alina told a 911 operator while she was not afraid of her brother she was "terrified to drive over there" based on the disturbing messages she'd received.