Josh Powell's 'Clever' And 'Amazing' Slain Boys Laid To Rest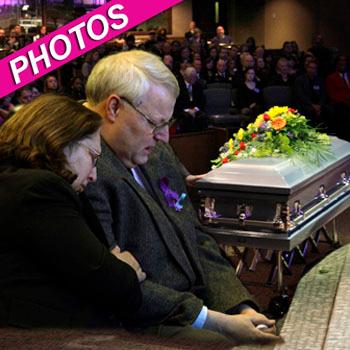 Charlie and Braden Powell, the two young boys hacked and burned to death by their own father last Sunday in a horrific murder/suicide, were laid to rest Saturday in Tacoma, Washington.
The Powell and Cox families came together to remember the two boys who were tragically slain at the young ages of seven and five.
Chuck and Judy Cox, the parents of the boys' missing mother, Susan, thanked the hundreds of mourners for their support "throughout this trial we've been enduring" reported ABCnews.com. Josh Powell's parents did not speak.
Article continues below advertisement
As RadarOnline.com previously reported, Powell's father, Steven, has been named "a person of interest" in the two-year disappearance of Susan.
The boys' remains were in one solitary coffin covered in flowers.
During the service, Charlie's kindergarten teacher remembered him as a boy who "loved to make salsa and bake bread." Charlie was fascinated with insects, too, and was known to sneak a caterpillar or worm into class on occasion, reported ABCnews.com.
"He was an amazing young man. He had an appreciation for nature I had never seen in someone so young," his former teacher said.
Braden's teacher spoke too, saying the five-year-old had a "sharp mind" and a big imagination. He loved the color orange and was fascinated by cars, trucks, and trains.
As RadarOnline.com previously reported, a comforter found in a storage unit rented by Josh Powell has tested positive for blood, police revealed on Friday.
Article continues below advertisement
Pierce County, Washington detectives reported finding a gray-blue-pink comforter with a stain during the search of the unit.
Powell killed himself and his two young sons in a gas-fueled inferno last Sunday. Pierce County authorities consider the murder-suicide an admission that he killed his wife Susan two years earlier.
The social worker who was the last to see Charles, Braden and even Josh alive, broke her silence in an interview with ABC News, where she gave horrific details of the moments before the deadly explosion that destroyed his Puyallup, Washington home.
Elizabeth Griffin Hall said after pulling the children inside the house, Powell "caught my eye, his shoulders were slumped. He had a sheepish look. He just shrugged his shoulders and slammed the door.
"I heard him say, 'Charlie, I've got a big surprise for you'... and then I heard Braden cry out." Griffin-Hall said. "I'm saying, 'Let me in, Josh, let me in' -- I realized I didn't have my phone in my hand and I could smell gas. Too much time had passed and I could smell gas.
Article continues below advertisement