Exclusive
'There Was No Sign Josh Powell's House Was A Sham,' Say Social Workers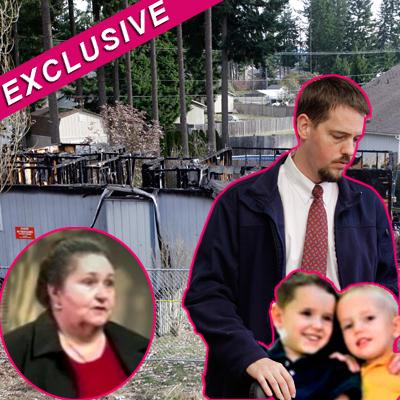 By Debbie Emery - Radar Reporter
Detectives investigating the murder-suicide committed by Josh Powell revealed this week that the house he saw the children at was a sham, but RadarOnline.com has exclusively learned that the social workers supervising the visits were oblivious to the deception that led to a deadly blaze.
"I don't even know if law enforcement knew that," Sherry Hill, Communication Officer for the Children's Administration at the Department of Social and Health Services told RadarOnline.com in an exclusive interview.
Article continues below advertisement
"They didn't ever say anything to us about the house being a prop or a ruse, we met with them regularly and they never informed us."
As RadarOnline.com previously reported, the Graham, Washington, home that Powell committed the February 5 attack at on sons Charlie, 7, and Braden, 5, was really just a sham to show the authorities, and he did not even live there or keep his belongings at the residence.
Hill told RadarOnline.com that improvements on the home in the three months since the supervised visits were carried out made it appear that Josh was living there.
"Our staff noted that when he first moved into the home in November that the garden was pretty overgrown and not maintained, and there had been a lot of yard work since that time," she explained. "We know from the social worker report that they played there when the weather allowed as we had a mild winter until mid Jan."
Article continues below advertisement
Elizabeth Griffin-Hall was the child services worker assigned to accompany the boys during the visits with their dad every Sunday afternoon, and was the last person to see them alive after he locked her out of the house before igniting the home-made bomb.
"From November 2 to February 5 there was a four-hour visit every Sunday, so we're surprised the neighbors didn't see anything," said Hill, referring to local residents who said they thought the house was abandoned.
"The social worker parked there, I don't know where Josh parked, probably in the garage."
Along with furniture and family photos around the house, there was a room set up with beds for Charlie and Braden. "They never spent the night there, but that would have been the natural progression," explained Hill. "There was no indication or concern that he was not living there, and because the children weren't living with him there was no reason for us to be following Powell or evaluating him when he wasn't with them."
Article continues below advertisement