Josh Powell Will Not Be Buried Next To Sons; Cops Buy Burial Plots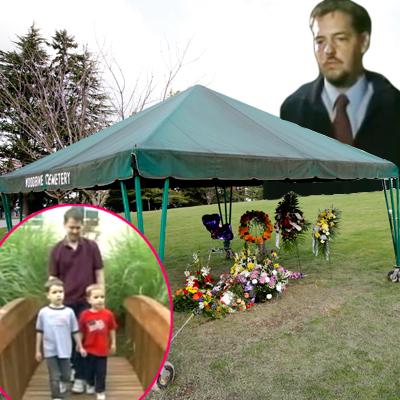 By Amber Goodhand - Radar Reporter
Murder-suicide assailant Josh Powell will not be buried next to his children that he killed, because two Washington police officers have bought the plots next to the boys.
Pierce County Sheriff's Sgt. Ed Troyer told KIRO FM in Seattle, "The bottom line is, Josh Powell will not be near those two boys."
Sgt. Troyer and Sheriff Paul Pastor purchased the plots in the Woodbine Cemetery with their own money as well as some funds from Crime Stoppers Tacoma-Pierce County.
Article continues below advertisement
"This would keep that which is unacceptable from taking place," Pastor said about the plots which are estimated to cost nearly $5,000. "We weren't too worried about the price. We know people will step up and donate toward it."
As RadarOnline.com previously reported, Josh used a hatchet to attack his two sons after locking the social worker out, and then blew up the "sham house" where his meetings with the kids were set up, killing all three of them.
Josh was the only "person of interest" involving the 2009 disappearance of his wife, Susan Powell.
Their boys, Charlie 7, and Braden, 5, had been placed in the custody of Susan's parents last September, and in early February a family court judge told Powell that he was not likely to regain custody anytime soon, and that he needed to undergo a psychological review.
They were being delivered by social worker, Elizabeth Griffin-Hall, for a visit when the horrific tragedy occurred.