Exclusive
Steven Powell's Sexual Obsession With Susan 'Repulsed Her' Says His Son-In-Law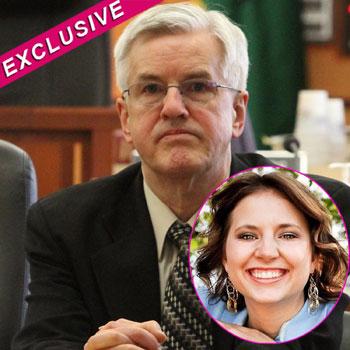 By Debbie Emery - RadarOnline.com Reporter
It is only a day into the trial of Steven Powell and already disturbing and graphic evidence has been presented to the court in the form of his diaries which unveil his sexual obsession with missing daughter-in-law Susan Cox Powell, and RadarOnline.com can exclusively reveal that she was deeply disturbed by his fascination with her.
"He repulsed her. One of the primary reasons she wanted to move to Utah was to get away from him. She would be sick if she knew what he was thinking," Kirk Graves, who is married to Steven's daughter, Jennifer Powell Graves, told RadarOnline.com in an exclusive interview, adding that he felt the same way.
Article continues below advertisement
"There is a spirit about him that left me feeling dirty," he explained. "There was nothing quantifiable - he always creeped me out but I never got to know him well enough to figure out why... And I never wanted to."
As RadarOnline.com previously reported, Steven's son, Josh Powell heartlessly attacked his and Susan's two sons, 5-year-old Braden and 7-year-old Charlie, with a hatchet before torching his home in Washington state on February 5. All three died of smoke inhalation.
Josh was the prime suspect in the disappearance of Susan, who vanished in December 2009 when he claims he went on a last minute camping trip with their young sons, in the middle of freezing cold winter in West Valley City, Utah.
Firm in his belief that Josh killed Susan, Graves went on to reveal that he found Steven so abhorrent that he doesn't know how anyone would feel comfortable around him.
"I am surprised people were able to interact with him in any way," he told RadarOnline.com. "I don't know anyone who was friends with him. There was an irritating nature to him, like not letting go of a topic and the more you got uncomfortable the more he pursued it."
Article continues below advertisement
While he openly disliked his father-in-law, Kirk said he was never personally harmed by him in. "I don't feel vindictive towards him, he has done harm to other people and it is up to them how they feel he should be punished for that.
"There was a time when my biggest motive was to keep him away from the boys, but that is not an issue anymore," he said sadly. "I want justice and whatever his victims consider justice."
Contained in the journals stemming from 2003 to 2010 that were presented to the Pierce County Superior Court in Washington, were sexually explicit details of Steven's daughter-in-law, reported the DeseretNews.com.
"The vast majority of the writing is sexually graphic and obsessing over Susan Powell," revealed deputy Pierce County attorney Bryce Nelson.
Prosecutors read samples of the diaries on Monday, saying Steven Powell allegedly wrote: "Susan likes to be admired and I'm a voyeur," "I'm a voyeur and Susan is an exhibitionist," and "I've been going nuts and nearly out of control sexually my entire life."
Article continues below advertisement
Powell talked about stalking his daughter-in-law, taking secret videos of her — including some from underneath a bathroom door — and secretly watching Susan from a hallway, as well as revealing how he "likes taking video shots of pretty girls in shorts and skirts, beautiful women of every age."
Despite the insight into Powell's dark thoughts, Judge Ronald Culpepper dismissed a charge of possession of child pornography against him on Monday, but he still faces 14 counts of voyeurism against two young female neighbors who were recorded with digital cameras through an open bathroom window while they were taking baths.
Steven has been named by investigators as a "person of interest" in Susan's disappearance since Josh killed himself but Graves is not expecting him to freely help solve the mystery.
"I would like him to reveal his secrets about Susan, but I don't hold out a lot of hope because he has no motivation too," he told RadarOnline.com.
Opening statements in Steven Powell's trial are likely to begin on Wednesday, assuming a jury is selected by then.