Exclusive
Josh Powell's Sister Is 'Disgusted' By Siblings Going After His Life Insurance Policy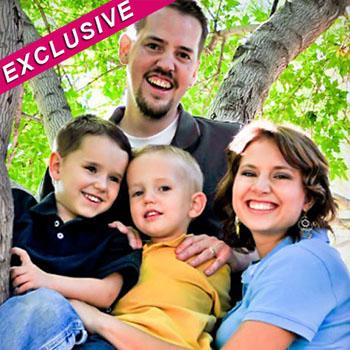 By Debbie Emery - RadarOnline.com Reporter
On the same day that family members mourned at the funeral for the sons that Josh Powell murdered last month, his brother and sister both staked their claims on up to $2.5 million of life insurance, RadarOnline.com can exclusively reveal.
"The day the boys were buried, Alina and Michael applied for the life insurance policy, as they are both beneficiaries but the insurance company saw some strange things going on and weren't sure if they wanted to pay without a count going over the policy and approving it," Kirk Graves, who is married to Josh's other sister, Jennifer Powell Graves, told RadarOnline.com in an exclusive interview.
Article continues below advertisement
"There are concerns about how it was used and all the changes over time, I hear there was quite the list," explained Graves. "If they paid out and someone sues them they might have to pay it out twice.
"The other concern is that Utah law and Washington law differ about who can change beneficiaries. Washington is where the changes were made."
As RadarOnline.com previously reported, Powell heartlessly attacked his two sons, 5-year-old Braden and 7-year-old Charlie, with a hatchet before torching his home in Washington state on February 5. All three died of smoke inhalation.
Josh was the prime suspect in the disappearance of his wife, Susan Cox Powell, who vanished in December 2009 when he claims he went on a last minute camping trip with their young sons, in the middle of freezing cold winter in West Valley City, Utah.
The life insurance was first taken out in the summer of 2007, back when they appeared to be a normal, happy family.
"There was a single policy on Josh for $1 million. That had a rider on it that included the boys for $250,000 each," Graves told RadarOnline.com. "The other million is Susan's policy, I get the impression the insurance policy paid out on that and the money is currently sitting in the court's hands."
Article continues below advertisement
Following the numerous changes in the policies, the last one being made on December 3, it currently stands that Michael could get 93 percent, Alina four percent, and the third brother, John, three percent.
"Jennifer is not on there, there was no way Josh would give us anything, not that we would want it," said Kirk.
"It is blood money. All four individuals were killed by Josh, anything that pays out is from his murderous acts," he told RadarOnline.com.
As for Alina and Michael, "They clearly don't have ethics or morals or see why this is a problem. They just saw the money and stars went off in their heads and they decided they are going after it," said the estranged family member. "To them this is the solution to all the problems they ever had.
"Jennifer is disgusted by this, the idea that they would profit from Josh's murders and that they were so in support of him through this whole thing, it's despicable."
Article continues below advertisement
In addition to the $2.5 million currently under dispute, there are two more policies - $500,000 each for both Susan and Josh – which are with a different insurance company and benefit a family trust that was originally set up for Charlie and Braden.
"The way I see it, Susan is not officially deceased, she is the source and all the money goes to her, then it should be protected and if she is legally deceased then it would go to the her parents (Chuck and Judy Cox)", suggested Graves.
Despite the financial war going on with the rest of the Powell family, Kirk said he and Jennifer are on the slow road to emotional recovery after losing the boys they one day hoped to adopt as their own.
We are trying to get back into life again and get back to normal," he told RadarOnline.com.
What happened to Susan still remains an unsolved case and Graves said investigators have not been in touch with them recently regarding whether Josh and Jennifer's father, Steven Powell , is still a person of interest in her disappearance. Steven Powell is currently in police custody on child porn-related charge.
Article continues below advertisement
"We have heard nothing from the West Valley police department, so we assume the case is still open. Jennifer has no contact with Steven at all, but that is nothing new," Graves said.
The last time she spoke to her father was "January 22, 2010. This was a month after Susan disappeared and we went up and confronted Josh and Steven about it but they kicked us out of the house," revealed Kirk. "Before that she had not talked to him for four years so it wasn't a surprise."