Texas Gun Range Defends Tradition Of Posing Kids With Santa Claus & Semi-Automatic Rifles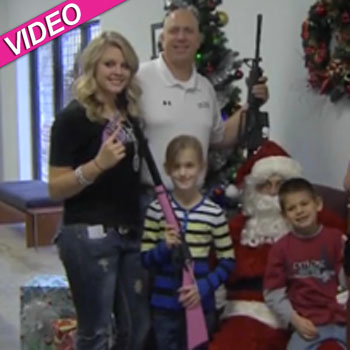 Despite the recent horrific massacre in Newtown, Conn., a Lewisville, Texas gun range is continuing its tradition of posing children alongside Santa Claus - and a high-powered rifle.
"I think it's extremely important to train children, to educate them, and take the mystery out of the guns," Nancy Prince, the owner of Eagle Gun Range, told WFAA-TV. "That's one of the reasons we opened the range: To educate children to train in the correct way to use them."
Article continues below advertisement
Prince said the picture event is "child-friendly," adding that shooting guns "can be a fun sport" and "doesn't have to be a dangerous sport."
She said that destructive individuals will always find a tool to carry out their plans. "If people want to hurt another person," she reasoned, "they can use a baseball bat."
Not so, says Reverend Peter Johnson, who pointed out that "the difference is, the baseball bat is for hitting a baseball ... a gun is for killing people."
Rev. Johnson, who's participated in gun buy-back programs that have removed 22,000 firearms from the streets over the past 20 years, says he believes less guns in circulation would ultimately translate to less violence.
"We have to begin to talk about our love affair with violence," he said. "We are not going to be able to take all the guns out of Americans' hands, but we must begin to talk to America about violence itself."
Article continues below advertisement
As RadarOnline.com previously reported, the shocking Sandy Hook school massacre perpetrated by gunman Adam Lanza on Friday left 27 people in all dead, 20 of them young students from the age of 6.
The three weapons - a Sig Sauer and a Glock, both semi-automatic handguns, and a .223 Bushmaster, a military-style assault weapon - all belonged to his mother. It is believed she owned at least five, possibly more, high-powered weapons and was considered an avid gun collector who taught her two sons to shoot.