Westboro Baptist Bigot Slams Steve Jobs: From Her iPhone!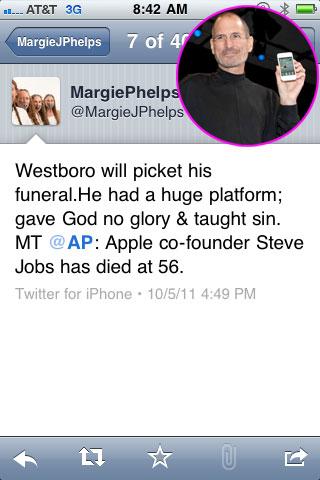 By Amber Goodhand - RadarOnline.com Reporter
Steve Jobs was a luminary in changing the world and the way we do things, so much so, that RadarOnline.com has learned that even a church planning to protest his funeral uses one of his great inventions!
Margie Phelps, a member of the highly controversial Kansas' Westboro Baptist Church, ousted herself as a hypocrite when she slammed Jobs for being "selfish" and declared the church would be protesting his funeral — all while typing away on her iPhone.
Article continues below advertisement
"No peace for man who served self, not God. #hellgreetedhim Westboro must picket funeral. #warnliving," Margie tweeted on Wednesday, just moments after it was announced that Jobs had passed away.
"Westboro will picket his funeral. He had a huge platform; gave God no glory & taught sin."
It clearly states on Margie's tweets that they were posted using "Twitter for iPhone."
Westboro is an independent church headed by Margie's father, Fred Phelps, and has approximately 71 members, predominately family members of the huge Phelps clan, with extreme views against homosexuality and have been known to picket funerals and desecrate the American flag.