Neighbor Breaks Down Talking About Finding Six Scared Kids In His Driveway After Sandy Hook Massacre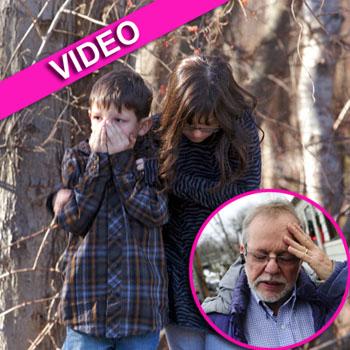 Newtown, Connecticut resident Gene Rosen is being hailed as a hero after providing a safe haven for six children who escaped Sandy Hook Elementary school during Friday's massacre that left 28 people dead, including 20 children between the ages of 6 and 7.
"I looked outside and I saw these six children, and I thought they were practicing for a play, or Cub Scouts, and I went and approached them and it became clear that they were so distressed," the 69-year-old said, as he choked back tears. "And I took them into my house, and they were crying and talking, and I got them some stuffed animals."
Article continues below advertisement
Rosen, who lives a close distance to the school, provided shelter for the four girls and two boys over the next few hours after a school bus driver dropped them off. The retired psychologist contacted their parents, gave them food and toys, and took in their accounts of events.
"They said he had a big gun and a little gun," Rosen said the children told him of shooter Adam Lanza; one boy told him, "We can't go back to school. Our teacher is dead -- Mrs. Victoria Soto -- we don't have a teacher."
He recalled another boy's precocious observation in the wake of the tragedy.
"This little boy turns around, and composes himself, and he looks at me like he had just removed himself from the carnage and he says, 'Just saying, your house is very small.'
"I wanted to tell him, 'I love you. I love you.'"
Rosen said after all of the kids had been picked up, a parent came to the house looking for her son.
"Her face looked frozen in terror," Rosen said, tearing. "She thought maybe a miracle from God would have the child at my house," he said. Later, "I looked at the casualty list ... and his name was on it."
Article continues below advertisement
Watch the video on RadarOnline.com
Rosen said if he saw the kids again, "I would tell them how brave they were -- I would tell them how brave they were, and how I'd be their friend, and how I'll never forget them."
As we previously reported, Lanza, 20, shot his mother Nancy in her bed before taking an arsenal of her firearms to the school. As police drew in on him, he shot himself in the head.
In wake of the tragedy, the United States Post Office has set up a special PO box for people to send cards expressing their prayers and sympathies to the Newtown community. The address is: Box 3700, Newtown, Connecticut 06470.