A Mother & Uncle's Heartbreaking Eulogy For 6-Year-Old Noah Pozner: 'The Sky Is Crying'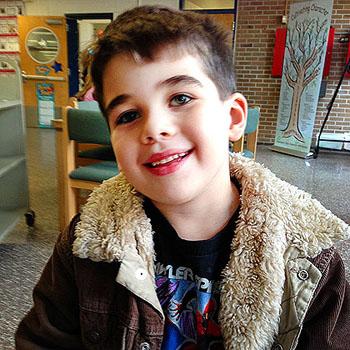 Funerals will be held Tuesday for two more children who were killed in the massacre at Sandy Hook Elementary School in Newtown, CT, while a wake will be held for one of the slain teachers. On Monday, the first funerals were held for two victims -- Noah Pozner and Jack Pinto, two first-graders who were both 6 years old.
Noah's mother and uncle delivered messages at his funeral Monday reflecting on his short life and lessons to draw from his loss. While people identifying themselves as reporters were not allowed into the service, the family made transcripts available to The Associated Press. Here they are, in full:
Article continues below advertisement
From mother, Veronique Pozner:
The sky is crying, and the flags are at half-mast. It is a sad, sad day. But it is also your day, Noah, my little man. I will miss your forceful and purposeful little steps stomping through our house. I will miss your perpetual smile, the twinkle in your dark blue eyes, framed by eyelashes that would be the envy of any lady in this room.
Most of all, I will miss your visions of your future. You wanted to be a doctor, a soldier, a taco factory manager. It was your favorite food, and no doubt you wanted to ensure that the world kept producing tacos.
You were a little boy whose life force had all the gravitational pull of a celestial body. You were light and love, mischief and pranks. You adored your family with every fiber of your 6-year-old being. We are all of us elevated in our humanity by having known you. A little maverick, who didn't always want to do his schoolwork or clean up his toys, when practicing his ninja moves or Super Mario on the Wii seemed far more important.
Article continues below advertisement
Noah, you will not pass through this way again. I can only believe that you were planted on Earth to bloom in heaven. Take flight, my boy. Soar. You now have the wings you always wanted. Go to that peaceful valley that we will all one day come to know. I will join you someday. Not today. I still have lots of mommy love to give to Danielle, Michael, Sophia and Arielle.
Until then, your melody will linger in our hearts forever. Momma loves you, little man.
***
From uncle, Alexis Haller, of Woodinville, Wash.:
On Friday, Dec. 14, we tragically lost a most beloved member of our family. Noah was a 6-year-old little boy, and he was so dear to all of our hearts.
Words cannot express the unfathomable loss we feel.
Noah was a wonderful son and a loving brother. He was kind, caring, smart, funny, and sometimes even a little mischievous. He liked to tell his sisters that he worked in a taco factory; when they asked him how he got to work, he would give them a funny look as if to say he knew something that they didn't.
MORE ON:
sandy Hook Elementary School
Article continues below advertisement
Noah was a little kid. He loved animals, video games and Mario Brothers. He was already a very good reader, and had just bought a Ninjago book at a book fair that he was really excited about reading. He was also very excited about going to a birthday party he had been invited to. It was to take place on Saturday, Dec. 15.
Noah loved his family dearly, especially his mom, his dad, his big sisters Danielle and Sophia, his big brother Michael, and his dear twin Arielle. He called Arielle his best friend, and she was – and always had been.
If Noah had not been taken from us, he would have become a great man. He would been a wonderful husband and a loving father. He would have been a backbone of our family for years to come. His loss, and our loss, are deep indeed.
It is unspeakably tragic that none of us can bring Noah back. We would go to the ends of the Earth to do so, but none of us can.
What we can do is carry Noah within us, always. We can remember the joy he brought to us. We can hold his memory close to our hearts. We can treasure him forever. And all of us, including the family, the community, the country and the world, can honor Noah by loving each other and taking care of each other. That's what Noah would have wanted.
Article continues below advertisement
Noah, we love you so much, we miss you dearly, and we will never, ever forget you.
Outside the Jewish service for Noah, a teddy bear and bouquet of white flowers lay at the base of an oak tree. Mourners at his funeral included Connecticut Governor Dannel Malloy, who had the unenviable task on Friday of telling 20 sets of parents that their children were dead.
Noah left behind four siblings, including his twin sister Arielle who survived the attack.
In his obituary, his parents Lenny and Veronique Pozner described their son as being the "light of our family, a little soul devoid of spite and meanness."
The streets of Newtown were clogged with mourners – some of whom had traveled from as far away as Georgia just to lend their support.
In wake of the tragedy, the United States Post Office has set up a special PO box for people to send cards expressing their prayers and sympathies to the Newtown community. The address is: Box 3700, Newtown, Connecticut 06470.