Funerals Held For 6-Year-Old Sandy Hook Victims, 'Loving & Vivacious' Jack Pinto And Noah Pozner 'A Little Soul Devoid Of Spite & Meanness'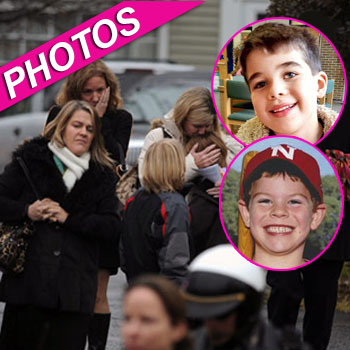 "An impish, larger-than-life little boy" and an avid New York Giants fan wearing a jersey bearing the name of his favorite player.
The first funerals for victims of the Sandy Hook Elementary School massacre were held on Monday as the residents of Newtown, Conn. – still reeling from the horrific attack – came out in force to pay their respects.
Tributes came pouring in as services were held for students Jack Pinto and Noah Pozner, both six years old.
Article continues below advertisement
Jack – a sports fan who loved baseball, football and wrestling – lay in an open white casket as dozens of families who couldn't fit into the funeral home stood outside in the cold and the rain.
According to the MailOnline, one mourner was so overcome with emotion that an ambulance had to be called after she fainted.
Irv Trager, whose son played football with Jack's brother, said: "I just feel for the families. It's unfathomable what happened here."
Parents were seen outside comforting crying children while many little boys attended their friend's funeral wearing Newtown Wrestling sweaters.
"Jack was an incredibly loving and vivacious young boy," Dean and Tricia Pinto said about their son in an obituary posted in the Newtown Bee.
Outside the Jewish service for Noah, a teddy bear and bouquet of white flowers lay at the base of an oak tree. Mourners at his funeral included Connecticut Governor Dannel Malloy, who had the unenviable task on Friday of telling 20 sets of parents that their children were dead.
Article continues below advertisement
Noah left behind four siblings, including his twin sister Arielle who survived the attack.
In his obituary, his parents Lenny and Veronique Pozner described their son as being the "light of our family, a little soul devoid of spite and meanness."
The streets of Newtown were clogged with mourners – some of whom had traveled from as far away as Georgia just to lend their support.
On Sunday, New York Giants player Victor Cruz, Jack's favorite player, took to the field in Atlanta wearing shoes with "R.I.P Jack Pinto" written on the side.