Photo Of A NYC Cop Giving Boots To A Barefoot Homeless Man Turns Him Into An Internet Hero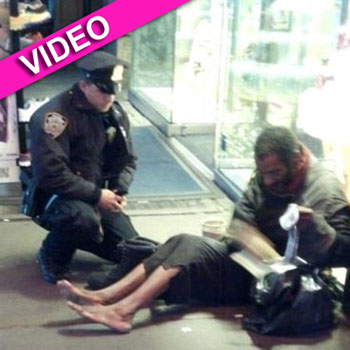 By Debbie Emery - RadarOnline.com Reporter
They pledge to protect and serve the public, but the police code of duty says nothing about dressing needy citizens.
However, one New York City officer took caring for the community to a whole new level when he came across a homeless man barefoot on the street in Manhattan near Times Square on a freezing night on November 14.
Officer Lawrence DePrimo was working a counterterrorism post when he encountered the shivering victim and immediately disappeared and returned moments later with a new pair of boots, and even knelt to help the man put them on, reported the New York Times.
Article continues below advertisement
The random act of kindness by a guardian angel in uniform may have gone unnoticed if not for a tourist from Arizona who snapped the heart-warming image on her cell phone and posted it to the New York Police Department's Facebook page, and by Thursday it had already garnered over 410,000 likes and been shared 135,000 times.
Jennifer Foster of Florence, Arizona, said she spotted the homeless man begging for change, "Right when I was about to approach, one of your officers came up behind him," she revealed.
"The officer said, 'I have these size 12 boots for you, they are all-weather. Let's put them on and take care of you.' The officer squatted down on the ground and proceeded to put socks and the new boots on this man."
Foster, a civilian communications director for the Pinal County Sheriff's Office in Arizona, was blown away by the generous gesture and "presentation of human kindness," revealing that the cop expected nothing in return and didn't know she was watching. She did not know the officer's name so posted the photo on Facebook to identify him, in what has now become a runaway hit for the Police Department's fledgling social media efforts.
Article continues below advertisement
The 25-year-old cop from Long Island has responded to the outpouring of respect by simply saying, "I didn't think anything of it."
After joining the force in 2010, DePrimo is normally assigned to the Sixth Precinct in the West Village, and his experiences on the streets have far from hardened his heart.
"It was freezing out and you could see the blisters on the man's feet," he recalled. "I had two pairs of socks and I was still cold." They started talking; he found out the man's shoe size: 12.
As the man walked slowly down Seventh Avenue on his heels, Officer DePrimo went into a Skechers shoe store at about 9:30 p.m. "We were just kind of shocked," said Jose Cano, 28, a manager working at the store that night. "Most of us are New Yorkers and we just kind of pass by that kind of thing. Especially in this neighborhood."
The lucky beneficiary of DePrimo's kindness has yet to be identified, but the officer described him as "the most polite gentleman I had met," adding that the man's face lit up at the sight of the shoes. "As soon as the boots were on him, he went on his way, and I just went back to my post."