No More Happy Days, Homeless Erin Moran Turns 52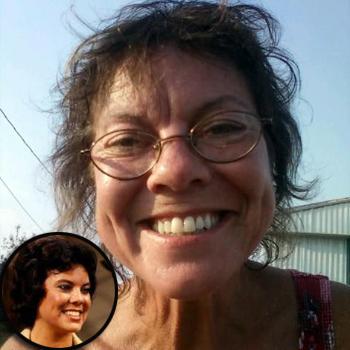 Article continues below advertisement
As RadarOnline.com previously reported, Erin blew through a cash settlement she was awarded by CBS over merchandise revenue and her non-stop partying has left her jumping from cheap motel to cheap motel with her hubby in Corydon, Indiana.
"She was going out and coming home at all hours of the night, sometimes with her rowdy bar friends, and Steve's mom just couldn't take it anymore, so she told Erin to leave," a source said, and then she had the same problem at her hotel.
"On several occasions the hotel management warned Erin to curb her unruly behavior, but they finally had enough of her temper and demanded that she immediately leave the property."
One eyewitness who was privy to a night of Erin's partying told RadarOnline.com that even though she was drinking alcohol, she didn't appear wasted, it "almost seemed like she was just nuts. She was just kind of out there!"
Article continues below advertisement
The source continued, "She was real goofy and silly acting. She said she was heading over to the bar for a tequila shot, but actually stayed with us instead and hung out for the next three or four hours outside in the grass.
"She talked about her husband, and she said he'd been working at Walmart for 20 years. I asked her what she was doing there because I didn't know she had lost everything, she said she was taking care of her mother-in-law.
"She said she had some bad investments or someone took advantage of her, she made it sound like she had lost everything."
Erin's latest downward spiral moment occurred when she got into a drunken street brawl with her mother-in-law after she caught Erin trying to sneak into her trailer for a place to sleep after she'd kicked her out.
"She finally did leave, but Steve's mom was right on her heels, chasing her out of the trailer, shouting at Erin as she made her way across the yard to their car," the eyewitness told the National Enquirer.
Article continues below advertisement