Exclusive
Homeless Happy Days Star Erin Moran 'Acted Weird And Off-The-Wall' Partying In Motel Parking Lot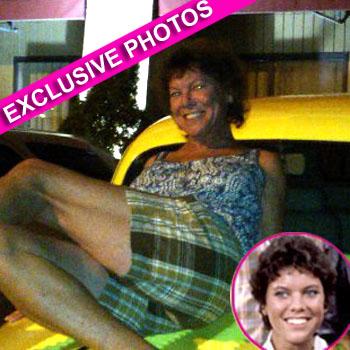 Article continues below advertisement
"We were just hanging outside at about 9 or 10 pm, and she just happened to be coming out around the corner and stopped and talked to us," one eyewitness told RadarOnline.com in an exclusive interview.
"She was real goofy and silly acting. She said was heading over to the bar for a tequila shot, but actually stayed with us instead and hung out for the next three or four hours outside in the grass."
Rather than appearing as if she was on drugs or falling down drunk, Erin "almost seemed like she was just nuts. She was just kind of out there!" the source said.
"She seemed like she was a little off, it was hard to tell if it was just alcohol. She didn't do any drugs or talk about them in front of us. She was definitely a little kooky and acted weird, saying odd things, and even offered to give me a back rub!"
As RadarOnline.com previously reported, the 51-year-old former actress has been bouncing from motel to motel after being thrown out of the trailer that she once shared with her mother-in-law.
Article continues below advertisement
Due to the unusual scenario, the eyewitness and her friends found it hard to believe they were chatting to a once famous TV star at first.
"About a half hour into meeting her when we'd just been wondering 'Who is this crazy woman?' she asked if we knew who she was, and I said, 'You look like…' and she said 'That's who I am,' before I could even get it out," she explained.
"We didn't believe who she was at first, so we were questioning her. We looked on my phone on the internet, and she obviously gave us the right answers so that we believed her."
Moran went on to regale them with stories about her years on Happy Days as 70s sweetheart Joanie Cunningham, in between talking about her faith in God, and her bizarre family circumstances.
"She talked about her husband, and she said he'd been working at Walmart for 20 years. I asked her what she was doing there because I didn't know she had lost everything, she said she was taking care of her mother-in-law.
Article continues below advertisement
"She said she had some bad investments or someone took advantage of her, she made it sound like she had lost everything," explained the source.
After hanging out with Erin until 2 am, the eyewitness went to bed and left the actress with one of her friends as they snapped silly photos sat on his 1940 Chevy.
She assumed it would be the last she would see of the down-and-out actress, but when she got up the next morning, Moran was back out on the grass roaming around chatting to people – wearing the same clothes as the night before!