Ron Howard On Tom Bosley's Death: He Made Us All Laugh On 'Happy Days'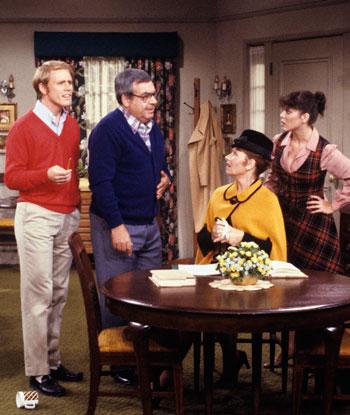 Happy Days star Tom Bosley was remembered by his costar Ron Howard as a remarkable man who made everyone laugh.
Stars from the ABC hit show and around Hollywood expressed their sorrow over the passing of the man who played the beloved father on the mega-hit ABC comedy.
Howard, who starred as Bosley's son Richie Cunningham, released this statement to RadarOnline.com: "I'm so saddened by the loss of our wonderful Tom Bosley. Remarkable on so many levels, Tom's insight, talent, strength of character and comic timing made him a vital central figure in the Happy Days experience. A great father and husband, and a wonderful artist, Tom lead by example, and made us all laugh while he was doing it.
Article continues below advertisement
"My last conversations with Tom reflected the love of life and peace of mind that he always maintained throughout his full and rewarding life. I miss him already."
Marion Ross, who played Marion Cunningham on the hit show Happy Days also mourned Bosley on Tuesday, lauding his intelligence and leadership.
Ross released this statement about Bosley: "He was my husband of 11 years and the father of the company in many ways.
"He was so smart, he could make up a new end to fix a scene on the spot. We made a perfect couple.
"I played piccolo to his tuba."
Ross and Bosley were one of the most loved TV couples during the show's run in the late 1970s and early 1980s.
As RadarOnline.com reported, Bosley, 83, who played Howard Cunningham on the iconic TV show died at his Palm Springs, California home Tuesday after suffering a severe staph infection.
Bosley starred as the father of Richie (Ron Howard) and Joanie (Erin Moran) on a show that was a national sensation as Henry Winkler's character Fonzie became a cultural phenomenon.
In 2004 Bosley was ranked ninth on TV Guide's list of the 50 Greatest TV Dads of All Time.
RELATED STORIES: